With Thursday rolling around, that means that the U.S. Drought Monitor data is available and that means I have the latest on our drought situation. Which literally... hasn't moved an inch (Graphically speaking) in our region. Other parts of Kentucky have seen the drought virtually disappear. Our chances of pushing it to the side are looking a little better! Well maybe not pushing it all the way out of the region, but putting a good little dent into the overall issue!
The chances of rain will be right here beginning Wednesday and lasting pretty much all the way through my 7-Day Forecast (the reason I say MY is because you may see others posted and there is a possibility it won't be mine) If the remnants of Ike actually turn the corner and run over Kentucky we might see some real relief from the drought plus have those rains that I missed so much. The first real chance of rain appears to be on Friday. Then the chances will be come scattered over the weekend and early next week. By mid week... some of the moisture from Ike will be close and keep the rain alive for that period.
As far as daytime highs are concerned... sticking with many days in the low 80s to round out this week and weekend. Next week highs in the mid & upper 70s with some lows dropping off into the 50s & 60s.
I don't LIKE where IKE is heading!
My last several posts have talked a great deal about the tropics due to the recent activity. I have shared a lot of information about the storms and the behavior associated with them. It is time to look at a different aspect of why I don't like this latest track for Ike.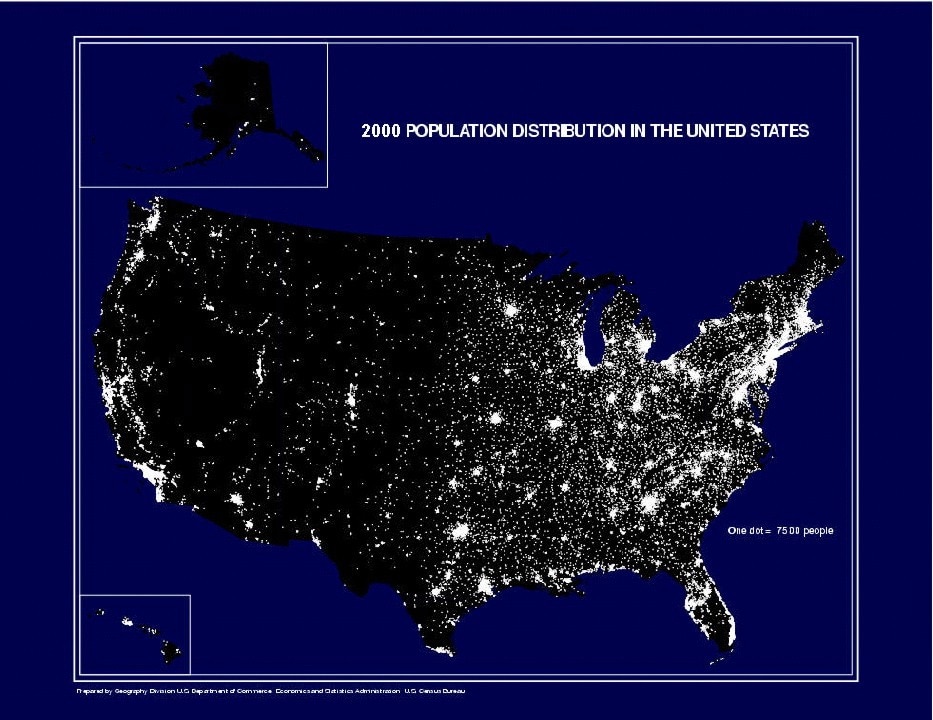 What we are looking at here is the 2000 Census - population distribution map of the United States. The bright areas that you see represent population levels for these areas. One dot is equal to 7,500 people. As you can already see... it is really hard to see one plain old dot! What isn't so hard to see is the extremely bright areas like in New England, southern California, and east coast of Florida. If you look toward the Texas coast you will also see a very bright area. That my friends is the Galveston to Houston area. The population is obviously very high in this part of Texas. Our old friend Ike is changing the game plan and possibly turning towards this location. Putting a lot of lives on the line. The estimated population of Houston is around 2 million people.
The real issue is Galveston... this was the site of the deadliest hurricane in U.S. history back in 1900. Here's some information on Galveston, TX.
| | | |
| --- | --- | --- |
| Population | Galveston | Galveston County |
A barrier reef island 32 miles long and 2 1/2 miles wide at its widest point. Located in the Gulf of Mexico, 50 miles south of Houston. Offers temperate, semi-tropical weather year-round; averaging 57° F in the winter months and 81° F in the summer months. The home of Texas A&M University at Galveston; Galveston College; and University of Texas Medical Branch .
Galveston College is a two-year community college with 2,300 credit students each semester, and nearly 5,000 continuing education students annually.
Texas A&M University at Galveston is the ocean-oriented, branch campus of Texas A&M University offering undergraduate and graduate degree programs in marine and maritime related fields. The university is home to the Texas Maritime Academy. Annual enrollment is over 1,500 students, with approximately 25 percent of students attending from out-of-state.
The University of Texas Medical Branch serves 2,400 students; and 697 interns, residents and fellows are enrolled in four schools and three institutes on a 85-acre campus. Seven private schools serve 1,400 students in the community.
So obviously a lot going on there! A statement released from the NWS says "People sheltering at ground level at Galveston Bay when Hurricane Ike hits face certain death!"
Don't forget about the large number of oil platforms that are also positioned in this area! The impact could rock the market!
And finally... here's the latest track!
Let's watch this one very carefully!
C-Ya Bye