Mother nature is certainly keeping things interesting across southern and eastern Kentucky as we wrap up the work week. We go from snow and ice problems this morning, to a fire threat for tomorrow. If the weather service issues watches and warnings for locust sometime in the near future I'm not going to be surprised.

In all seriousness the threat for wild fires will be on the increase late Friday morning through the entire day into the early evening. Winds will gust out of the southwest up to 35 mph and relative humidity will be down below 25 percent. Put the two together and you have a recipe for a wildfire to get out of hand quickly. Because of that our friends at the National Weather Service have issued a Fire Weather Watch.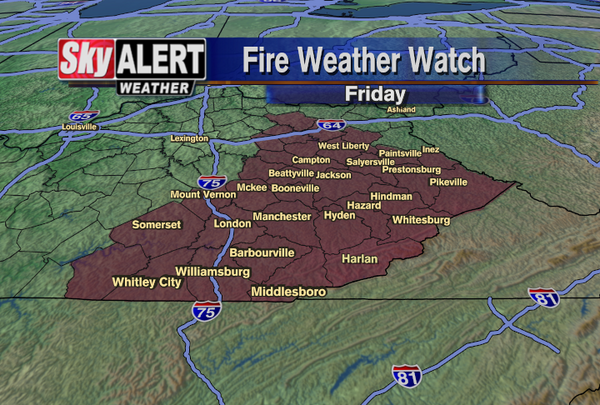 The Kentucky Division of Forestry's website has a ton of information and resources on wild fires, check it out at the link below.
http://forestry.ky.gov/wildlandfiremanagement/Pages/default.aspx
This watch could be a precursor to a Red Flag Warning, which means outdoor burning should be avoided. Do remember that we are in spring fire season and it is currently illegal to burn between 6 AM and 6 PM.
The good news is we do have rain in the forecast on Sunday so that would help if the wildfires do get a bit out of hand the next two days. However that rain may end as a little snow on Monday morning. Somehow I don't think the luck of the Irish is with us this winter.
-Shane Smith