Good evening my friends, I hope you enjoyed the hot and humid weather we had today... okay I know it's a little hard to enjoy the humidity, but at least it's feeling what summer should feel like for at least once this summer. It looks like I'm going to avoid the egg on my face with the 50% chance of rain today as the thunderstorms are finally moving through the northern part of the area, and will cross across the entire region over the next 2-4 hours.
As we look into the future the next couple of days the forecast looks very typical summer. Highs are going to be in the upper 80s, but the humidity will make it feel like the lower to mid 90s. Of course when you get this much heat and humidity you have to keep a slight chance of storms in the forecast. Now those storm chances won't be too bad if you're heading down to Nashville on Saturday for the big UK vs WKU game. In fact here's a look at the forecast for that game.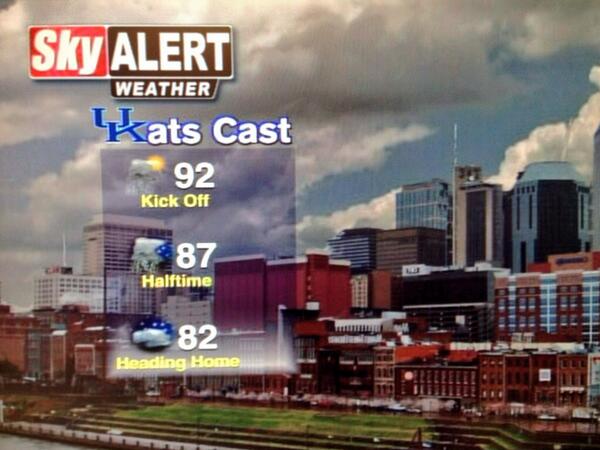 By the way, I originally posted that on my Twitter page this afternoon. Be sure to follow me for cool forecast tidbits like that, and radar updates when we have storms. https://twitter.com/ShaneWYMT I'm @ShaneWYMT on Twitter, just click the link to get there.
Now moving onto Labor Day, well the forecast isn't looking as good as it once was. Why do I all the sudden have the urge to listen to a certain Toby Keith song? Anyways here's what the deal with the forecast is. The long range computer models have been hinting at a big cool down for the middle of next week for several days now. However over the last two days, they've really sped that cool down up. Now they are showing that cool down getting here on Labor Day. Check out the European forecast model's temperatures to get an idea of the cool air moving in.


So when we get that big a shot of cold air coming in, you can expect a few thunderstorms and some gusty winds. Highs on Tuesday and Wednesday may not get out of the 70s, but we will continue to fine tune the forecast as we move forward. Speaking of which here is a look at the latest 7-day forecast.


Keep checking back with the blog for more updates.