Gov. Beshear mandates masks be worn in all Kentucky schools
Published: Aug. 10, 2021 at 3:42 PM EDT
FRANKFORT, Ky. (WKYT) - As Kentucky families finish up back-to-school shopping, they'll have to add face masks to the list now that Governor Beshear has ordered universal masking for school districts.
"We cannot keep our kids in school if we are unwilling to put on a mask," Gov. Beshear said Tuesday.
The governor announced an executive order requiring masks in schools. He said vulnerability to the more contagious delta variant, and the fact that some schools have already had outbreaks led to the decision.
"We are to the point where we cannot allow our kids to go into these buildings unprotected, unvaccinated and face this delta variant," Gov. Beshear said.
Prior to the order, Beshear says just around 48 of the state's 171 school districts were following the state and CDC's recommendations for universal masking in school. Now, they don't have much of a choice.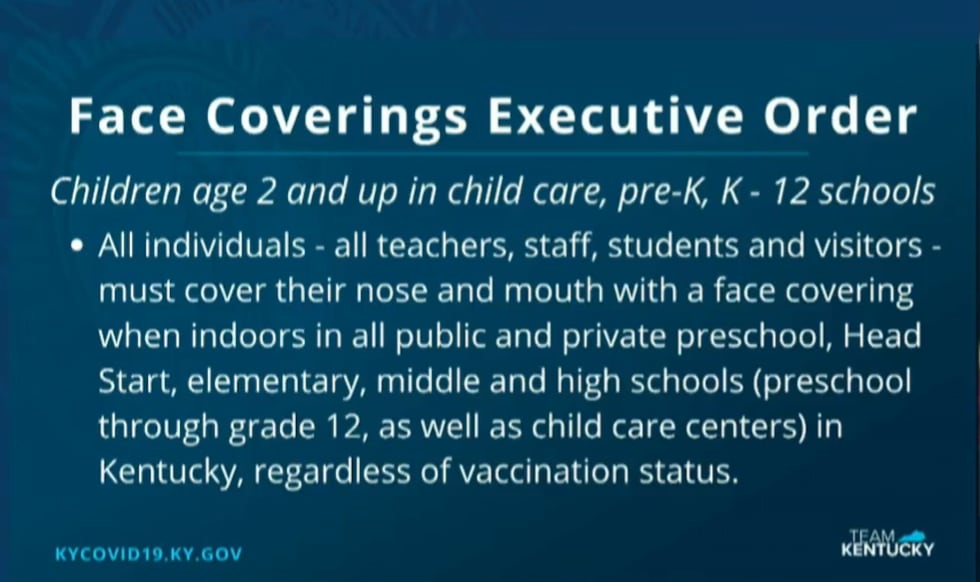 "If they care one lick about their kids they certainly will. If they claim to be educators and every single public health agency from the CDC to their local health department has said 'it's the only way to stay in school and otherwise you're going to shut down businesses,' they will," Gov. Beshear said.
The order is getting support from most education groups. The Kentucky Education Association said in a statement, "requiring masks for all students is vital to help slow the spread of COVID-19 as schools reopen across the Commonwealth."
Let Them Play Kentucky is against the order, saying, "given the demographics of Kentucky, a one size fits all approach isn't in the best interest of our Kentucky Kids."
The order is in effect for 30 days. Gov. Beshear says they will reevaluate the situation then.
The governor announced 2,500 new COVID-19 cases Tuesday, which is the most since January. He says the state is seeing an 11.05% positivity rate, and there are 1,251 hospitalizations as of Tuesday. There were also seven new deaths. These factors led to the governor's decision on masks in schools.
As of Tuesday, 1,251 people are hospitalized for COVID-19 related reasons, 339 are in the ICU, and 168 are on ventilators.
Copyright 2020 WKYT. All rights reserved.