Dr. Kim Schatzel introduced as new UofL president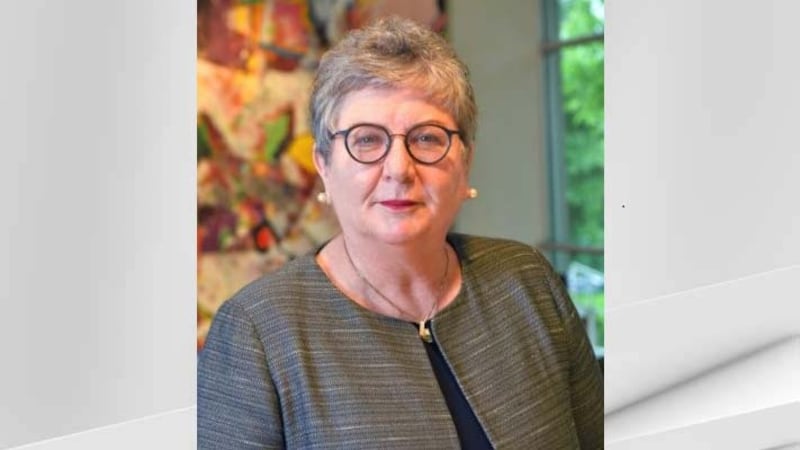 Published: Nov. 29, 2022 at 12:42 PM EST
|
Updated: Nov. 30, 2022 at 11:44 AM EST
LOUISVILLE, Ky. (WAVE) - Dr. Kim Schatzel has been named the 19th president of the University of Louisville. The current president of Towson University will officially assume the UofL presidency on Feb. 1, 2023.
The announcement took place following a special meeting of the University of Louisville Board of Trustees on Wednesday, during which Schatzel was appointed with a unanimous approval.
Schatzel, 66, has served as president of Towson since 2016. She is also a professor of marketing.
"The University of Louisville is a historic university with rich traditions that provides leadership to Kentucky as the premier metropolitan research university for the Commonwealth," Schatzel said. "I am incredibly honored to be chosen to lead such a remarkable institution and look forward to working together with our campus and community partners to advance UofL's reputation as a preeminent institution nationally recognized for its excellence in research and scholarly work, education, inclusive student success, innovation, the arts and athletics, all aimed to establish the University of Louisville and the City of Louisville as a nexus for transformative solutions that advance the public good."
Schatzel previously served as provost of Eastern Michigan University and as dean of the College of Business at the University of Michigan-Dearborn.
"My husband Trevor and I are thrilled to be joining the UofL community and look forward to embracing the university community, the City of Louisville and the Commonwealth of Kentucky as our new home," Schatzel said. "And we look forward to joining the more than 169,000 UofL alumni from around the globe in cheering on our Cardinals."
She succeeds Dr. Lori Gonzalez, who was named interim president in Dec. 2021 following the departure of former university president Dr. Neeli Bendapudi.
Bendapudi was named the president at Penn State University on Dec. 9, 2021.
Schatzel also currently serves as the Vice-Chair of the Board of Directors for the Colonial Athletic Conference, a mid-major conference that Towson University competes in with 19 Division I athletics teams.
UofL said Schatzel's track record of leadership includes advancing diversity, equity and inclusion initiatives as priorities.
"The city needed some healing and that we needed somebody clearly, not only was committed, but had proven in their previous roles that they could take action," UofL Board of Trustees Chair Mary Nixon said.
"It's many, many details that have to go in place," Schatzel said. "But the first and most important thing is to make a commitment to the fact that you want inclusive excellence on a campus, that all students, inclusive of all demographics and all identities thrive inclusively. And if they succeed at the institution itself. So that's my commitment."
Before the Board's choice was announced, Pan-African Studies Chairman Dr. Ricky L. Jones tweeted his doubts the University would hire a Black President.
"I'm betting you hire another white guy," Jones' tweet said.
After the announcement, Jones continued to express his disappointment.
"The way diversity and inclusion had worked to this point has largely been propaganda," Jones said. "And Black people have been left out of the conversation. We're seeing that happening at the University of Louisville, and I think it's unfortunate and I think it's dangerous."
Students reacted to the news of a new president with a variety of opinions on needed changes.
"When students of different ethnicities speak up on things, that it's taken more seriously and paid attention to," student Taya Flippins said.
"All these students are complaining about professors so maybe just see what's going on about it," student Ruby Nwosu said. "We're paying to be here so I feel like we should get the quality of education that we're paying for."
Students want to know how the new president will make them feel safer.
"Students shouldn't have to be worried about going out at night or dangerous people walking around," student Seth McFarline said. "Or even at school sanctioned events or fraternity sanctioned events, to think about shootings and things like that."
Copyright 2022 WAVE. All rights reserved.