After MVP Performance against Louisville, Jacob Toppin is WKYT Athlete of the Week
For athletes at any level, the mental game is just as important as what they do during the game itself.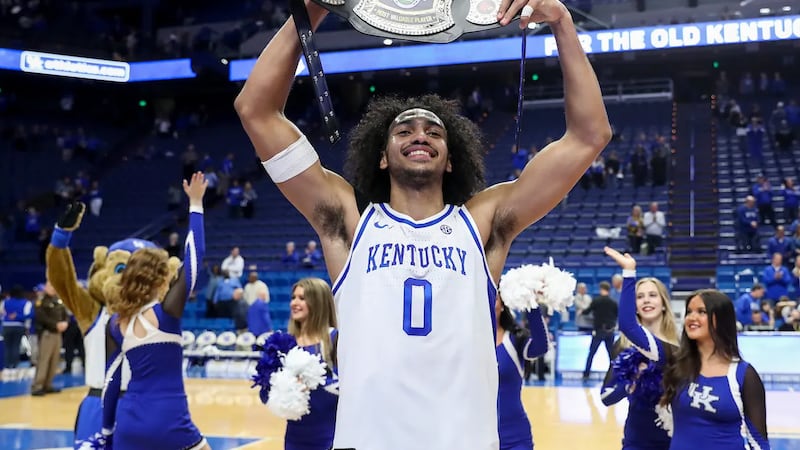 Published: Jan. 3, 2023 at 4:59 PM EST
LEXINGTON, Ky. (WKYT) - For athletes at any level, the mental game is just as important as what they do during the game itself.
Behind a 24-point performance on Saturday, UK senior forward Jacob Toppin was named MVP of the Kentucky-Louisville game.
"I've been in a rough patch that I needed to get out, and I had a lot of support from my teammates and coaching staff, and it just feels good to be back to my old self," Toppin said. "I feel good physically and mentally, so we just move forward and try to get better as a team."
Toppin had scored just 13 points in the last four games combined going into the UK-UofL game, and his playing time had decreased.
"I had probably reached rock bottom," Toppin said. "There was no bottom before this game and I just tried to focus on climbing back out of the hole that I was in."
The Brooklyn, New York native said his self confidence had taken a hit.
"I was messed up mentally. I wasn't thinking right when I was on the court. I wasn't fully on the court."
John Calipari said the team had felt the pressure.
"We've done a lot of work and it's not been on the court. You had guys feeling the weight of the world."
Toppin said playing for one of the blue bloods of college basketball comes at a price.
"You're wearing a heavy coat every day. You've got to live up to the expectation of playing Kentucky basketball. We have a brand to for. We have to do our best every day."
Toppin said he turned to loved ones, coaches and teammates for support, and his fellow Wildcats were proud to see him play the way they knew he could.
"That was really exciting. He deserved it. Jacob has put in a lot of time, a lot of work," Sahvir Wheeler said on Monday.
Fellow senior Oscar Tshiebwe agreed.
I'm so happy for him, because that's the Jacob I know from the beginning."
22-year-old Toppin says before taking the court now he tries to find his happy place, and is staying off of social media.
Copyright 2023 WKYT. All rights reserved.