Murdaugh trial, Day 21: Buster Murdaugh takes stand in father's defense
Published: Feb. 21, 2023 at 5:49 PM EST
WALTERBORO, S.C. (FOX Carolina) - After a long weekend, the murder trial of former Lowcountry attorney Alex Murdaugh resumed Tuesday for the fifth week.
Prosecutors rested their case on Friday after weeks of testimony from state witnesses seeking to prove Murdaugh killed his wife Maggie and youngest son Paul at the family's hunting lodge in June 2021.
On Tuesday morning, Judge Clifton Newman announced another juror had fallen ill. Juror no. 441, who was excused, was already an alternate for a previous juror diagnosed with COVID-19. Another alternate will take no. 441′s place.
The judge also reprimanded defense attorney Jim Griffin for a Washington Post opinion piece he retweeted on Saturday. The columnist believes there was a "sloppy investigation" in the Murdaugh case.
"Your honor, I will not retweet anything - or tweet anything - until this trial is over," Griffin said.
BUSTER MURDAUGH TESTIFIES
Murdaugh's oldest son, Richard Alexander Murdaugh Jr., known by the family as "Buster," was the first witness to take the stand on Tuesday.
"We had a lot of guns," Buster Murdaugh said while talking about the 1,700-acre property on Moselle Road. He testified that Paul was not diligent about securing firearms, often leaving guns out or in his unlocked truck.
Prosecutors have argued family weapons were used to kill Paul and Maggie.
Buster said he never saw a shotgun at Moselle loaded with buckshot followed by birdshot, which is the order of shells used to kill Paul.
The defense team discussed the state's timeline for the day of the double homicide, which included multiple phone calls Buster Murdaugh had with his parents.
"This was the way we communicated," Buster said, looking at the busy call log.
Buster testified he could not remember what he talked to his parents about in phone calls on the afternoon of June 7, 2021. But he said he could remember when Alex Murdaugh called him at 9:10 p.m. while en route to the Almeda home where his ailing mother, Buster's grandmother, lived.
He said his father sounded normal in the call and the family often dialed each other while in the car.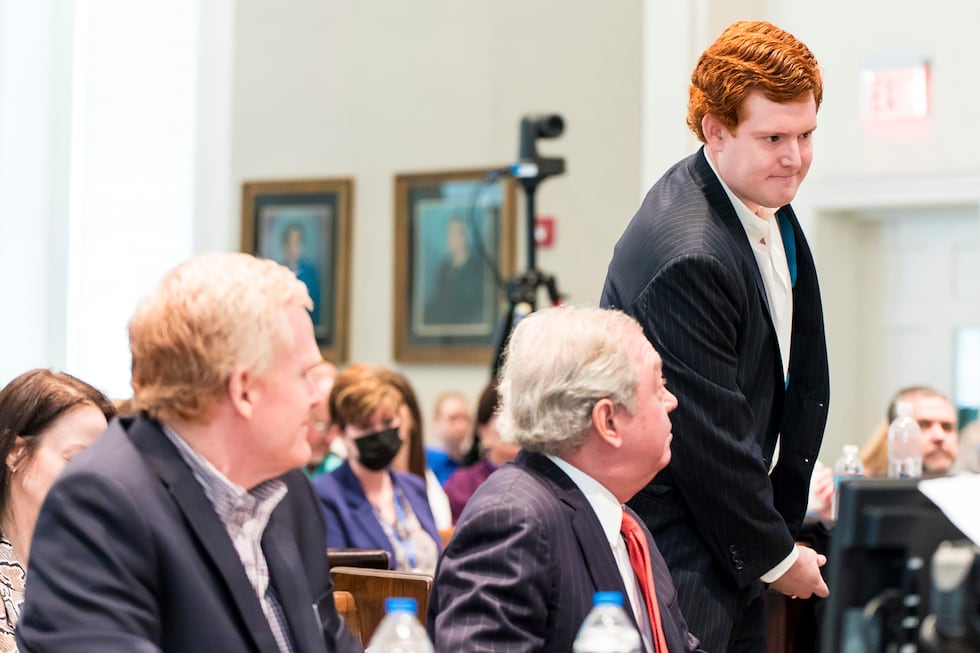 Buster also remembered the call later that night when he learned his younger brother and mother had been killed.
"He (Alex) called me on the phone. He asked me if I was sitting down. He sounded odd," Buster said. "Then he told me my mom and brother had been shot."
When Buster got to Moselle around 2 a.m., he said his father "was destroyed." Neither of them ever spent another night at the property, although at some point after the homicides, he said his father asked if he wanted to go hunting there again.
Griffin asked Buster about a press release he helped draft with his father following the murders. The family offered a $100,000 reward for information to "bring justice for Maggie and Paul." The reward had an expiration date within three months of the homicides and when Griffin asked why, Buster said he didn't know.
Buster said in the interview his father did with SLED on June 10, 2021, he can be heard saying, "They did him so bad." He testified he heard his father say this multiple times beginning right after the murders. Under cross-examination, the SLED senior special agent who conducted the interview testified he is 100 percent certain Murdaugh said, "I did him so bad."
Buster testified he had no knowledge of his father's financial crimes and only knew "a little bit" about his opioid addiction.
EXPERT DISCUSSES BULLETS
The defense also called forensic engineer Mike Sutton to the stand on Tuesday. Sutton looked at the evidence in October 2022 and concluded based on the angle of .300 Blackout bullets that struck the quail pen and doghouse on the property, he believes the shooter must have been around 5 feet, 2 inches tall.
"In my opinion, it is very unlikely he fired that shot," Sutton said of six-foot-four Alex Murdaugh.
Sutton said his acoustics testing showed gunshots fired from a shotgun or rifle would not be audible in the main house, especially if there was background noise like a television.
He also analyzed speed data from Murdaugh's Chevy Suburban, which showed how fast he was traveling to and from Almeda that night. The data, which was previously shown in the state's case, indicates the Suburban was accelerating when it passed the point where Maggie Murdaugh's cell phone was later recovered from the side of the road. Sutton testified that if Murdaugh had thrown the phone from a vehicle moving about 45 miles per hour, it would have tumbled through the edge of the woods.
Prosecutor David Fernandez grilled Sutton in cross-examination about his areas of expertise.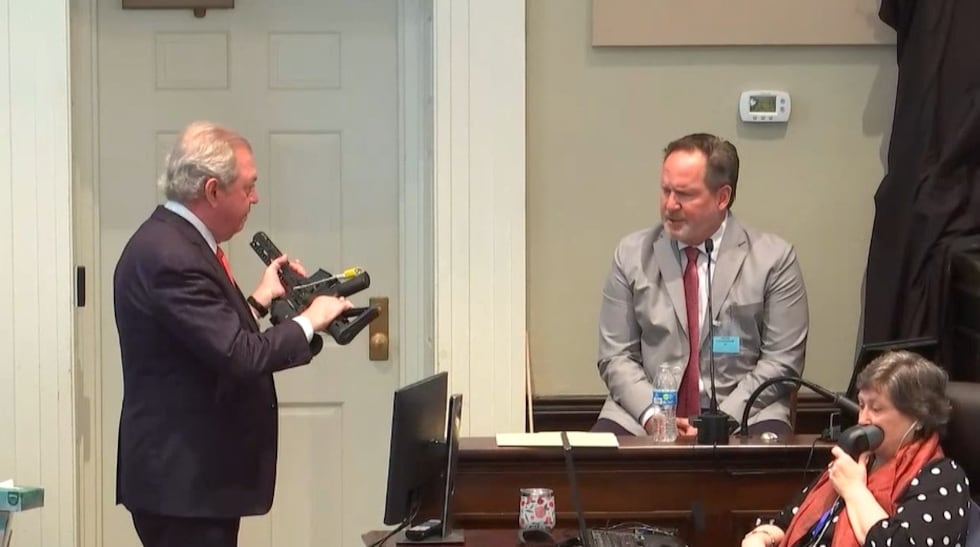 "I'm not a firearms expert or a pathologist," said Sutton, who confirmed he did not have any formal training about firearms. He was qualified as an expert on forensic engineering and acoustics at the start of his testimony, but said he has years of experience in accident reconstruction which includes shooting cases.
Fernandez asked Sutton if the ammunition used in his gunshot acoustics tests was the same as the ammunition used to kill Paul Murdaugh.
"I don't think it's the exact same, it's just representative," Sutton said. He used Winchester 12-gauge buckshot and Winchester turkey load in his tests. Federal and Winchester shells were found around Paul's body.
Fernandez asked Sutton if bullet ricochet could account for the holes in the doghouse that were part of his analysis. He said it is a possibility, but he doesn't believe they were caused by a ricochet in this instance.
"You don't know because we didn't recover that bullet," Fernandez said.
Sutton said he charges $350 per hour for his work, not including travel fees, and he estimated he has spent between 40 and 50 hours working on the Murdaugh investigation. He testified he was also retained by Jim Griffin to investigate the deadly 2019 boat crash in which Paul Murdaugh was charged.
Court will resume at 9:30 a.m. on Wednesday.
Read the full blog from Day 21 below:
Copyright 2023 WHNS. All rights reserved.