Morehead State upsets Clemson 68-64 in NIT
The Eagles trailed by 15 before rallying to stun the Tigers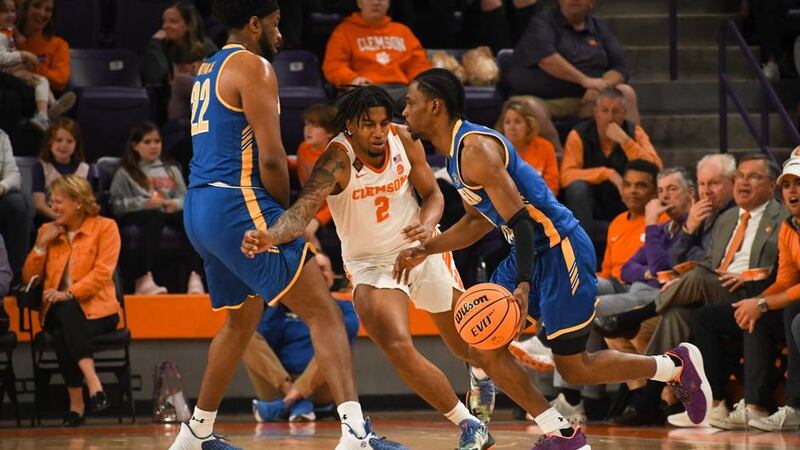 Published: Mar. 15, 2023 at 11:17 PM EDT
CLEMSON, SC --The Morehead State men's basketball team erased as much as a 15-point deficit and earned a 68-64 victory over the Clemson Tigers on the road Wednesday in the first round of the National Invitation Tournament at Littlejohn Coliseum. The win over the No.1 seeded Tigers marked MSU's first-ever NIT game and win. The Eagles now move into the NIT Sweet 16 and will play UAB next, on either Saturday or Sunday.
The Eagles (22-11) had four players score in double figures, led by Mark Freeman, who had 19 points, four assists and two steals. Alex Gross tacked on 16 points and nine rebounds and Kalil Thomas helped out with 11 points and eight rebounds. Drew Thelwell tacked on 11 points, including a pair of key three-pointers late in the game.
The Morehead State offense was very productive from three point land, pouring in 11 threes. Thomas was the most prolific shooter for the Eagles, draining three treys in the contest. The Eagles also held Clemson to just 6-of-28 from distance. MSU hit 15 of 16 free throws, including four by Freeman in the final eight seconds to seal the signature win.
How It Happened
After falling behind 34-24, Morehead State went on an 8-0 run with 2:41 left in the first half, culminating in a bucket from Freeman, to narrow its deficit to 34-32 at halftime.
Thelwell's three-pointer with 4:37 remaining gave the Eagles a 55-54 lead they never gave up. After Clemson tied it at 55-55, Freeman's triple with 3:42 left gave the Eagles another edge. Leading by two 62-60, Freeman fed Gross for what amounted to the game-sealing layup. Morehead State shot well from three-point range in the half, hitting five shots from deep to score 15 of its 36 points. Game Notes
» Morehead State lit it up from beyond the arc, knocking down 11 treys in the game. »
led the Eagles with a game-high 19 points. » The Eagles tied the Tigers on rebounds, 40-40, but MSU had 32 defensive rebounds and held Clemson to only four fast break points.
Copyright 2023 WKYT. All rights reserved.