'It's been a dream come true': KY Music Hall of Fame unveils new case for a popular young music star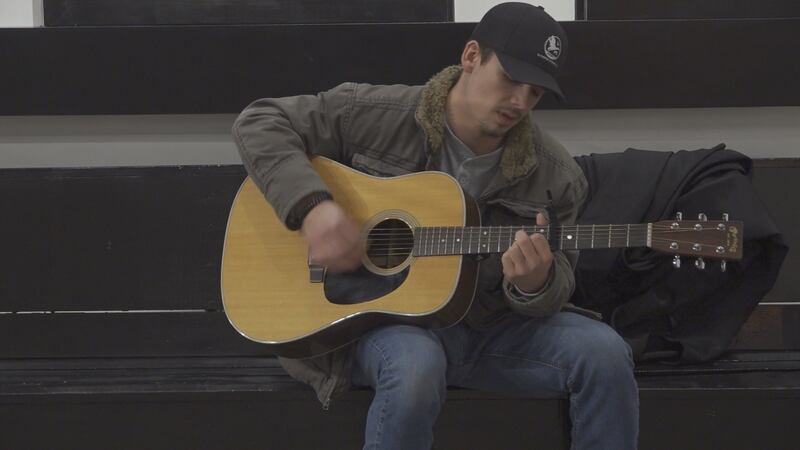 Published: Mar. 21, 2023 at 6:39 PM EDT
RENFRO VALLEY, Ky. (WYMT) - A Kentucky native and rising star across the country was back in the Bluegrass on Tuesday.
The Stars of Tomorrow exhibit is located inside of the Kentucky Music Hall of Fame in Renfro Valley. It features Kentuckians who have made a recent impact in music.
Noah Thompson watched as his case in the exhibit was unveiled for the very first time. He said he never dreamed he'd be in this position.
"It's been a dream come true like I just never expected in a million years I would have been able to do this in the first place you know. Especially win American Idol," said Thompson.
The case displays an outfit many saw on national tv and can now see in person.
"That whole outfit is the outfit is the outfit that i wore when i performed my first single I ever put out and it was on American Idol," he said. "It's actually the outfit that I performed in, in the finale of the show."
Jessica Blankenship, the executive director of the Kentucky Music Hall of Fame said Noah was at the top of their list when deciding who would be the next addition to the exhibit.
"The board of directors as well as myself we go through a list of names, and we try to pick people who are unique to Kentucky. I basically presented a list of names for folks to complete this year, and so Noah was at the very top because he just won American Idol," she said.
However, she added that his character is what stood out the most.
"Just seeing his humbleness and just his kind heart, and talking to people that are from Lawrence County," she said. "They told me what a positive impact that he has made on that community, so we wanted to capture on that."
Thompson said he cannot say exactly what the future holds, but he plans to continue making the people of Kentucky proud.
"I've been in Nashville the past couple of months. I've been writing every day and we've got a bunch of shows coming up. I get to actually open up for Luke Combs pretty soon, and we're playing in the CMA Fest this year," Thompson added.
If you would like to see Noah's case in the exhibit and visit the Kentucky Music Hall of Fame, it is open daily from 10a.m. to 5p.m. The museum staff said the exhibit will be up for one year.
Copyright 2023 WYMT. All rights reserved.