MLB plans to announce rules tweaks, week before opening day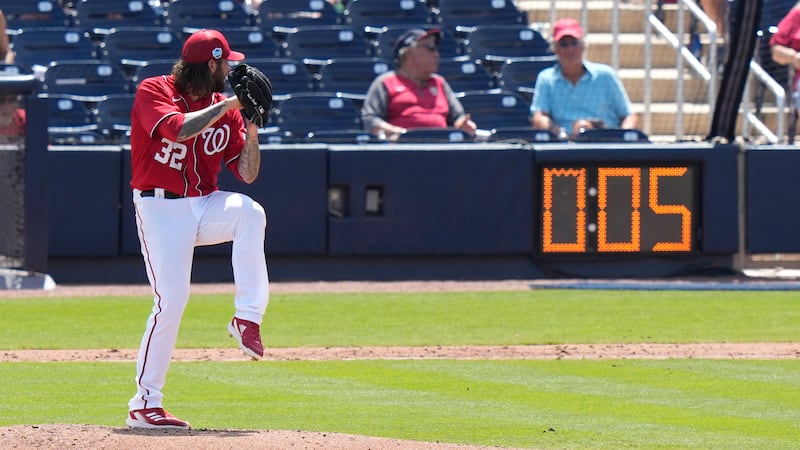 Published: Mar. 21, 2023 at 7:17 PM EDT
MIAMI (AP) — Major League Baseball's new pitch clock is going to undergo some timing adjustments before it is turned on for games that count.
Baseball Commissioner Rob Manfred called the changes "significant" but also described them as "clarifications" based on input from players. The alterations are likely to be announced Wednesday, eight days before opening day.
"They're important in my mind because they're responsive to things players said to us," he said before Tuesday night's World Baseball Classic championship game between the United States and Japan.
Baseball's 11-man competition committee, established in the labor agreement last March, adopted the pitch clock and shift limits last September over the opposition of the four players on the panel. MLB set the pitch clock at 15 seconds with no runners and 20 seconds with runners.
MLB also is limiting pickoff attempts and requiring two infielders to be on either side of second and all infielders to be within the outer boundary of the infield when the pitcher is on the rubber.
Players have talked about the need to accommodate certain plays that delay a pitcher from getting on the mound, such as after backing up first base.
"We have another set of issues that we want to see some regular-season games before we make a decision on them," Manfred said. "I've met with six teams' players already. Our feet are not in stone on this, on the one hand, and we are prepared to make adjustments based on input. On the other hand, we want to give it a chance to see exactly how it plays out after a period of adjustment in some regular-season games before we make any really significant alteration."
Further adjustments may be made during the season.
"The ones we're doing right now I regard to be clarifications," Manfred said. "They were things that the rules contemplated. We just want to make sure everybody understands them. I think that the kind of issues that are alive are not issues that are going to affect the outcome of the game. Some of them relate to individual ballparks and whatnot. You can make those adjustments over the course of the season. It's not like changing how big a bat can be."
___
AP MLB: https://apnews.com/hub/MLB and https://twitter.com/AP_Sports
Copyright 2023 The Associated Press. All rights reserved.