Cozart hits two free throws in double-overtime to send EKU to CBI Championship game
Cozart scored a career-high 31 points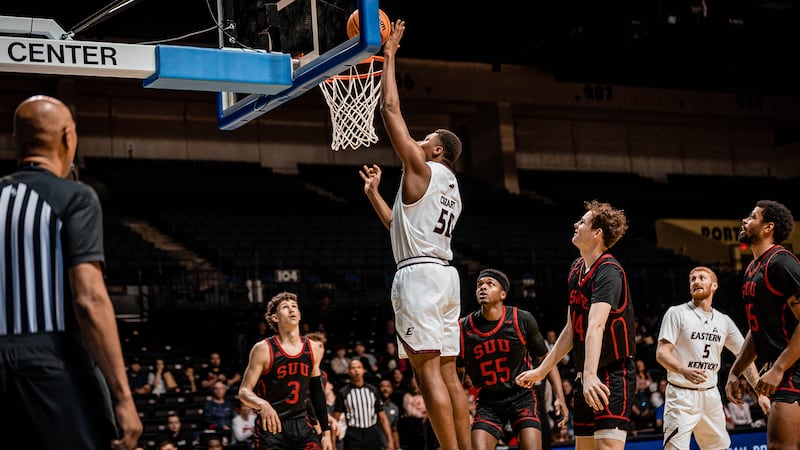 Published: Mar. 21, 2023 at 10:33 PM EDT
DAYTONA BEACH, Fla. – Isaiah Cozart scored a career-high 31 points but it was his final two, which came at the free throw line with 1.1 seconds left in double overtime, that gave the Eastern Kentucky University men's basketball team a 108-106 victory over Southern Utah University and sent the Colonels to the 2023 Discount Tire College Basketball Invitational (CBI) championship game.
EKU will play either Charlotte or Radford in the title game on Wednesday at 5 p.m. The game will air live on ESPN2.
Cameron Healy's 3-pointer with 1:10 left in regulation put the Thunderbirds ahead by two, 85-83. The Colonels missed on the other end but an offensive rebound kept the possession alive and Cozart put home a dunk to tie it with 31 seconds on the clock. SUU missed on a lay-up and Cozart was fouled with four seconds to go. He missed the front end of a 1-and-1 and the Colonels went to overtime for the third straight game in the CBI.
Two free throws from Devontae Blanton with 12.4 seconds remaining in the first overtime put EKU in front by four, 98-94, but Southern Utah scored five to tie it. Tevian Jones made three free throws with 7.3 seconds left. Blanton hit one of two free throws with six ticks left for a 99-97 lead. After Cozart blocked a lay-up attempt on the other end, SUU scored with a lob dunk on an out-of-bounds play under its own basket to send it to double overtime.
Cooper Robb opened the second extra period with a 3-pointer from the top of the key. Tayshawn Comer's free throw with 38.1 seconds left put the Colonels on top 105-101. Another Comer free throw with 16.9 seconds to go made it a three-point game, 106-103. Allen answered on the other end with a 3-pointer with less than 10 to play.
Leland Walker drove to the basket and put up a shot high off the backboard that missed. Cozart was there for the rebound and was fouled. He went to the line with 1.1 seconds left in double overtime, and having missed on four of his five attempts from the charity stripe in the game. The junior from Richmond put both through the net to secure the win.
Cozart finished with 31 points on 14-of-17 shooting from the field. He also grabbed 13 rebounds, his third straight CBI double-double. Blanton finished with 24 points and four steals. Comer had 15 points, seven rebounds, five assists and only two turnovers. Walker contributed 16 points, five rebounds, three assists and three steals while only turning the ball over one time. Robb was 4-for-7 from deep and scored 14 points.
Healy hit seven 3-pointers and finished with a team-best 23 points for Southern Utah. The Thunderbirds went 16-for-35 from long range for 46 percent.
EKU shot 51 percent from the field for the game and made 7-of-18 (39 percent) from behind the arc. The Colonels turned the ball over just nine times, while forcing 22 SUU turnovers. The maroon and white had a 23-12 advantage in points off turnovers, and turned 15 offensive rebounds into 22 second-chance points.
Copyright 2023 WKYT. All rights reserved.