2 suspects, including 12-year-old boy, arrested in triple homicide of Florida teens; 3rd suspect at large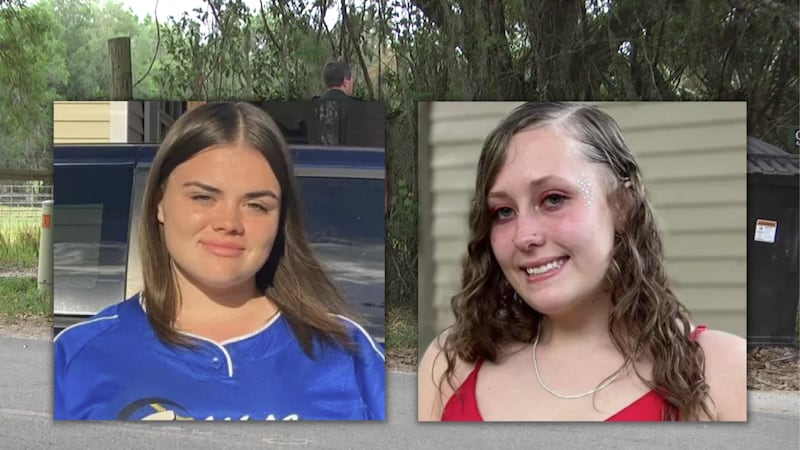 Published: Apr. 7, 2023 at 5:17 PM EDT
|
Updated: Apr. 7, 2023 at 9:04 PM EDT
OCKLAWAHA, Fla. (WCJB/Gray News) - Authorities announced they've made arrests in connection to a triple homicide of teenagers in Florida.
Marion County Sheriff Billy Woods announced the arrest of two males, a 12-year-old and a 17-year-old, for the killing of three teens in the Forest Lakes Park area of Ocklawaha. Another suspect, who is 16 years old, is not in custody.
Authorities said the suspects were involved in a group that committed burglaries.
Woods said the three suspects killed Layla Silvernail, 16, Camille Quarles, 16, and a 17-year-old boy who was not identified.
The sheriff said the suspects and the victims knew each other, and they were participating in burglaries. He said robbery is the motive.
Woods said the three victims were shot Thursday night near Forest Lakes Park. The bodies were then dumped in three locations.
The investigation began March 30 around 10:40 p.m. when Silvernail was found with a gunshot wound to the head by a dumpster near Forest Lakes Park. She was taken to the hospital, where she later died.
The next morning, a 17-year-old was found lying dead on the side of a road. The name of the victim is being withheld due to Marsy's Law.
On Saturday, Silvernail's car was found partially submerged in a pond. Inside was the body of Quarles. Woods said her body was found in the trunk of the vehicle.
The two minors in custody confessed to killing Quarles, according to authorities.
Friends and family of Silvernail and Quarles have set up GoFundMe fundraisers to raise money for the funeral expenses.
Woods suggested the possible involvement of neighborhood gangs. He explained that neighborhood gangs are small and usually made up of teenagers who are engaging in criminal activity.
The Associated Press reported the state attorney's office is reviewing the case to determine whether the juvenile suspects will be charged as adults, so their names are not currently being published.
Copyright 2023 WCJB via Gray Media Group, Inc. All rights reserved.