Ky. overdose deaths drop for the first time in 4 years
Published: Apr. 20, 2023 at 10:13 PM EDT
LEXINGTON, Ky. (WKYT) - For the first time since 2018, drug overdose rates in Kentucky are down from the year before.
After a record number of deaths in 2021, fatal overdoses dropped 5% in 2022.
It's a sign of hope after a record number of deaths in 2021.
According to Kentucky's 2021 drug overdose report, more than 2,200 Kentuckians died from drug overdoses in 2021—a 14.5% increase compared with the year prior.
"For the last three years, the numbers have skyrocketed. Almost to the point where it seemed perilous and out of control," said Addiction Recovery Care COO Pat Fogarty.
At Addiction Recovery Care (ARC), they say several factors are leading to the decrease, from advocacy, treatment availability, and simply talking more about the issue.
"We've got a playbook for what's working, to continue to get better, to continue to focus on the areas that we've seen improvement," said Fogarty.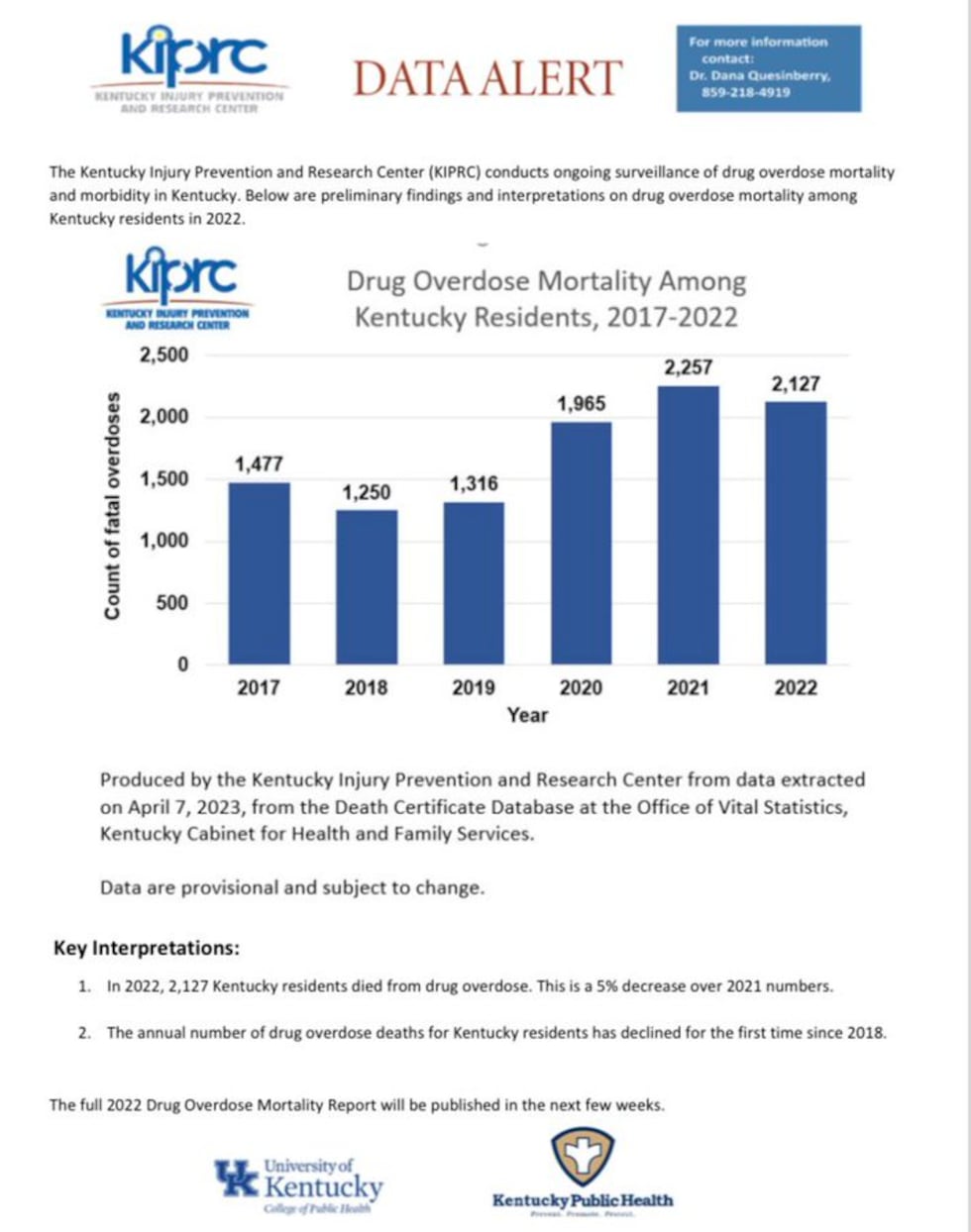 A chart released by the state shows the dramatic spikes in overdose deaths, particularly during the pandemic, when isolation, uncertainty and shutdowns played major factors in addicts using more.
Thursday, Governor Beshear spoke of how the state has worked to increase treatment beds and employment barriers for those in recovery.
"Think about what that could mean to get somebody in a really stable situation that may not have been in a stable situation for decades," said Governor Beshear.
"I've never seen it to the point where there are just so many people who care and are involved," said Fogarty.
The full overdose report is expected to be released in a few weeks.
If you are struggling with a substance use disorder, you can call 1-833-8-k-y-help to speak with a specialist about treatment options and available resources. Or you can text 'hope' to 9-6-7-1-4.
Copyright 2023 WKYT. All rights reserved.