Search and rescue bill signed into Kentucky law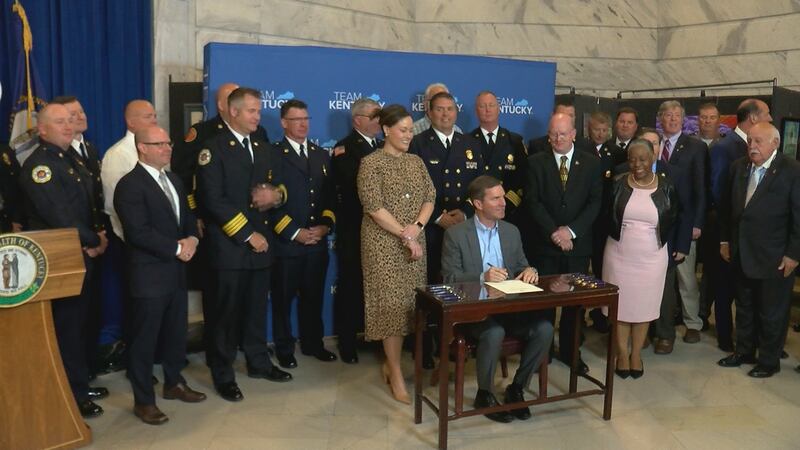 Published: Apr. 25, 2023 at 5:18 PM EDT
LOUISVILLE, Ky. (WAVE) - Search and rescue teams from across the country helped rescue people trapped following the Mayfield tornado and devastating floods in Eastern Kentucky.
Local search and rescue workers also raced to those scenes.
Kentucky is the only state in the south without a state-organized search and rescue team.
Kentucky Governor Andy Beshear signed into law a plan to create a permanent state-organized search and rescue program.
It took 10 years to get the idea through the legislature. Its goal is to speed up Kentucky search and rescue teams when they're needed.
Deadly tornadoes and floods ravaged both ends of Kentucky in the last year and a half. Search and rescue teams from across the country poured into the state to help save lives.
"So I asked about our urban search and rescue team, and one of the firefighters responded, 'We don't have one ma'am,'" said Lt. Governor Jacqueline Coleman.
"We want to help each other, and we want to be as effective as we can at saving the most number of lives," Beshear said.
"It'll bring those high-quality trained rescuers to an area faster," Lexington Fire Capt. Ryan Hogsden said.
Firefighters across the state responded to those massive natural disasters, but it can take half a day to get organized. This law wants to cut that time down to an hour.
"To bring all these resources together common equipment common training is just a really great resource for the state of Kentucky," said Metro Emergency Management Director Jody Meiman.
A state-organized response can get rescuers on the ground faster.
"No matter where the firefighters deploy they know the equipment, they're going to know the people they're going to work with, and that is only going to enhance the rescue capabilities," Pleasure Ridge Park Fire Chief Zion Meiman said.
"We all worked together, stated the problem, and came up with a bill so that Kentucky could rise, and our citizens can be protected," said State Representative Pamela Stevenson.
Kentucky's search and rescue team won't be off the ground immediately.
The state needs to hire someone to run the program.
Then the work begins.
Copyright 2023 WAVE. All rights reserved.