'I just wanted to help': Woman who adopted Patches, the 40-pound cat, joins his weight-loss journey
Published: Apr. 27, 2023 at 11:19 AM EDT
HANOVER, Va. (WWBT/Gray News) - He is a local superstar stealing the hearts of everyone across the world.
Patches, the 40-pound cat who was adopted from Richmond Animal Care and Control last week, is on a journey being followed by thousands of people.
"I was watching a favorite TV show, and I get this text, and all it says is 'This is your moment,'" Kay Ford said.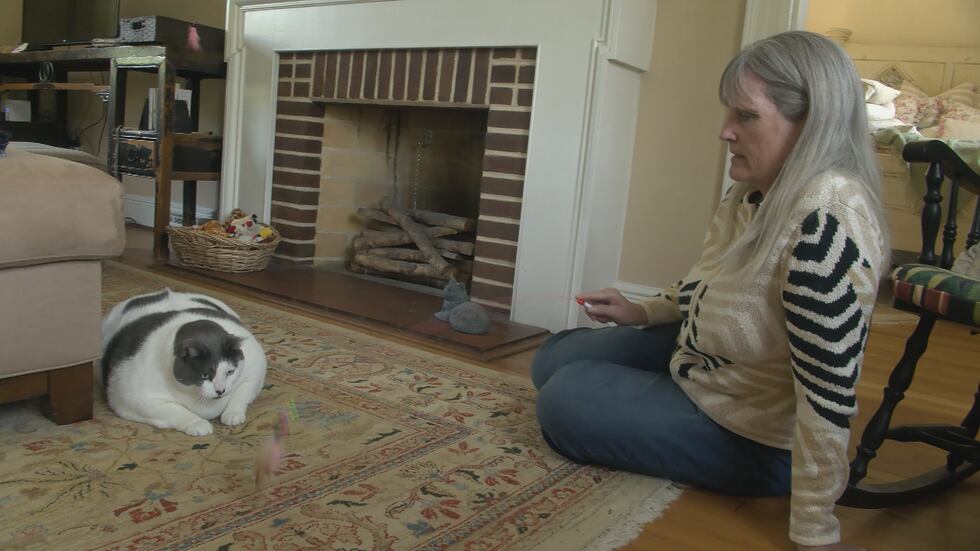 It's a moment Ford will never forget.
"I looked at it," Ford said. "It was clearly a picture attached to it, and there he was on the now famous (Facebook) post, and I just went, 'I got to have Patches.'"
The 40-pound cat Patches has become quite the superstar going viral after Richmond Animal Care and Control posted about his need for a home.
"I just wanted to help Patches,'" Ford said.
Weighing 42 pounds when he came in, that didn't stop Patches' determination to move into his new home and drop some weight. When he went to the vet on Tuesday, Patches weighed 38.8 pounds.
The journey is just getting started, and he won't be alone. Patches' healthier lifestyle inspires people worldwide to join him, including his new mom.
"I thought that it would be inspirational for me to do it with him," Ford said.
She said they're both doing it by walking a little more each day, with Patches continuing his special diet and exercise plan and adding a little "focused play" so he can get healthy and continue to make those cheering him on proud.
Ford admits all the attention can be daunting, but there's an upside.
"I never realized that I was going to be accountable to tens of thousands of people," Ford said. "But I think, 'Hey, if that's one way to do it, that's one way to do it and darn it, I'm going to do it!' If he can do it. I can do it."
Since so many people love Patches, Ford made a Facebook page for him where you can follow along on his weight loss journey.
Copyright 2023 WWBT via Gray Media Group, Inc. All rights reserved.