UK Baseball Faces Elimination After Loss to IU
The University of Kentucky baseball team (37-19) fell to the two seed Indiana University Hoosiers (43-18) by a final score of 5-3 in the NCAA Lexington Regional at Kentucky Proud Park.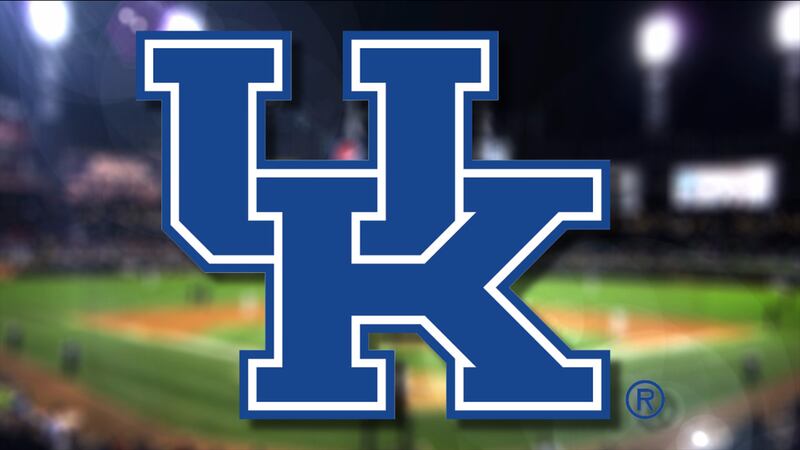 Published: Jun. 3, 2023 at 9:07 PM EDT
LEXINGTON, Ky. (WKYT) - The University of Kentucky baseball team (37-19) fell to the three seed Indiana University Hoosiers (43-18) by a final score of 5-3 in the NCAA Lexington Regional at Kentucky Proud Park. With 6,094 fans in attendance, it was the largest home crowd in UK baseball history.
The one-seeded Wildcats came into the day having shut-out (4) Ball State in the first game of the regional, 4-0. The Hoosiers beat (2) West Virginia in game two, 12-6. Saturday night's game was a rematch, as UK run-ruled IU in KPP back on March 14, 12-2 in 7 innings.
UK senior right-hand pitcher Zack Lee got the start on the mound for the Bat Cats, but gave up a homerun on his first pitch. Kentucky evened it out in the top of the second inning when sophomore Ryan Waldschmidt lined an RBI single out to center field to bring in redshirt senior Hunter Gilliam, and get on the board. The game remained 1-1 through six innings.
Following the HR, Lee blanked the Hoosiers for the next 6.2 innings until Serruto laid off a pair of close pitches and then connected for his third home run of the season, according to a release from UK.
In the top of the 7th inning, senior Jackson Gray grounded out, but an error on a fielder's choice let UK plate another run to take the lead. From there, sophomore Devin Burkes had a sacrifice fly to center field for another RBI. In the bottom of the inning, Lee gave up a three-run homer to Peter Serruto, and Indiana recaptured the lead.
Indiana plated one more run off a wild pitch from senior Darren Williams in the 8th to make it a 5-3 ballgame.
With the win, IU advances to the NCAA Lexington Region Final. UK now faces elimination; to advance, they'll need to win the next three games.
"We've got the right guys in the locker room. We have a whole bunch of older guys, we love playing together. Every moment we have with each other is super important," said UK redshirt senior captain Hunter Gilliam after the loss. "I guess people could look at this as a bad thing. But we're excited. One of the guys was, like, we get more games together. So we're excited for the road ahead."
The Wildcats have only advanced to a Super Regional once in program history- in 2017. Head Coach Nick Mingione compared the two situations.
"Like I told our team, you don't get to look back or second-guess or do that. Don't leave the dugout until they flush this game. And this is a good group of guys. And I told them, I said, hey, look, the bad news is we lost. The good news is I've been here and done this. This is exactly what happened in 2017. We won the first game, lost the second game. Proceeded to win three in a row. That's what it's going to take to do it again. I thought our fans were awesome. Golly, how many people did they say showed up? It was over 6,000. What a crowd. They were amazing. So thank you to the BBN for showing out."
Mingione added that you can't "save" pitchers at this point, but he believes Williams would be able to go for one or both Sunday games.
"You've got to go. Every game, this is it. There's not a lot of strategy involved. You gotta do whatever you can to win that first game, then whatever you can to win the second game."
The sixth year head coach said his team has to focus on winning 18 innings Sunday.
"It's an unselfish group of guys that just want to win. That's what they'll do tomorrow. I'm really confident they'll show up with a desire to win that dominates. They believe in each other. They believe in this team. They believe in the program. The culture we have is super strong. We have an opportunity to prove it tomorrow."
Earlier in the day, WVU beat the Cardinals in the first elimination game of the regional, 13-5 to stay in the tournament. The NCAA Baseball Tournament is double-elimination format.
Lexington NCAA Baseball Regional schedule for Sunday, June 4:
Game 5: 12:00 P.M. EST WVU (1-1) vs. Kentucky (1-1)
Game 6: 6:00 P.M. EST Indiana (2-0) vs. Game 5 Winner
If needed, game 7 would be Monday evening and feature the same teams as game six.
All game times are subject to change due to ESPN broadcast assignments.
Copyright 2023 WKYT. All rights reserved.