Mules help deliver Amazon packages to workers at bottom of Grand Canyon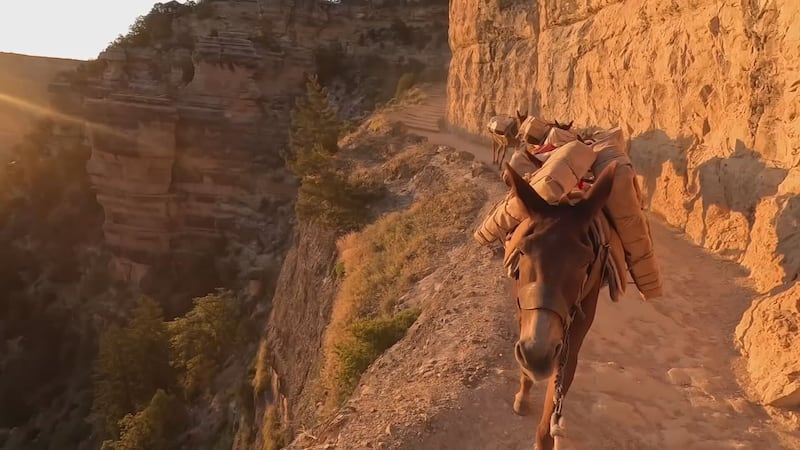 Published: Aug. 3, 2023 at 7:18 PM EDT
GRAND CANYON NATIONAL PARK, Ariz. (KPHO/Gray News) - It's no surprise that Amazon delivers, but what about getting packages to the bottom of the Grand Canyon?
Amazon has been tracking its more interesting delivery locations worldwide, and the Grand Canyon's Phantom Ranch made the list.
Thanks to mules, Phantom Ranch employees who live and work at the bottom of the canyon can have their supplies delivered to them.
There are no roads to the bottom of the canyon, and the only way to get there is by walking, river raft, or by mule.
So, how does it work?
First, Amazon packages arrive at a purchasing warehouse on the South Rim, and Phantom Ranch trucks deliver the packages to the mule barn. Packers then weigh the items, feed and clean the mules and carefully pack up the items and supplies employees need. When the sun rises, they start the trek down the canyon.
The mules deliver things such as fresh produce, toilet paper, mail, beer, bacon, and of course Amazon packages.
"We bring down pretty much anything that Phantom Ranch might need and any sort of packages they want to be delivered," said Annie Zenin, a Phantom Ranch mule packer. "It's important to be able to give these people not only what they need, but also what they want while they're living at the bottom of the canyon."
Copyright 2023 KPHO via Gray Media Group, Inc. All rights reserved.