Group of volunteers from Lexington rebuild home for flood survivors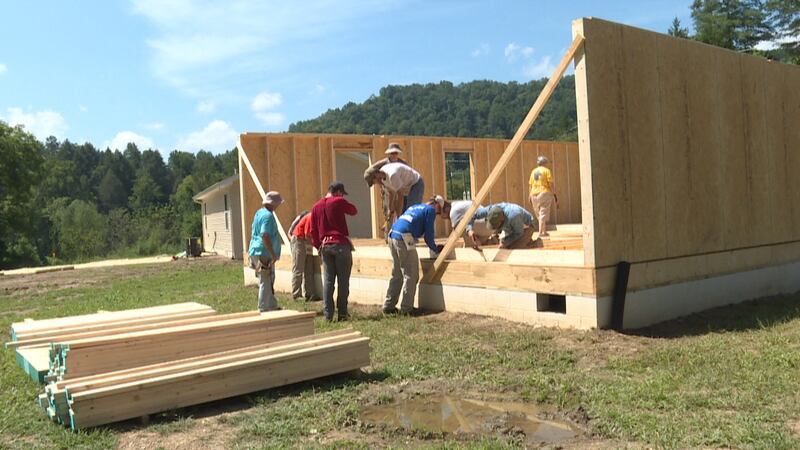 Published: Aug. 5, 2023 at 4:50 PM EDT
|
Updated: Aug. 6, 2023 at 8:57 AM EDT
BREATHITT COUNTY, Ky. (WYMT) - On Saturday, more than 12 volunteers with the Diocese of Lexington helped build a home from the ground up in Breathitt County.
This is the group's fourth home that they are working on, their third with the Housing Development Alliance.
Director of the Catholic Diocese of Lexington Office of Peace and Justice Joshua van Cleef said they were called to help.
"We wanna help. not just help financially, but we want to help build these homes... Because we know that recovery isn't just a material task, recovery is a spiritual task, it's a human task, it encompasses our entire lives. So, we wanna walk with people any way that we can," he said.
He added that they are in the area to do the Lord's work.
"They know that when people are hurting, that it is in Christ that they are given new life and at the same time, as Christians, we are called to be part of that. So, that means, that we are going to help any way we can," he explained.
Volunteer Michael Lynch said although they were in the heat, he said it was all worth it.
"Yes, we're sweaty, yes it's very warm and humid, but we're helping people that are even less comfortable than we are because they're still looking for a safe, good, decent place to live and it's worth the sweat, it's worth the effort that we're putting into it," he said.
Van Cleef said they are not going anywhere.
"As the Catholic church, we're here for the long haul. We're in these communities and we're walking with people through the relief efforts and we know that it's gonna be the long haul," he explained.
He added that they are walking with people on the road of recovery.
Copyright 2023 WYMT. All rights reserved.