New alert sirens tested in Madison County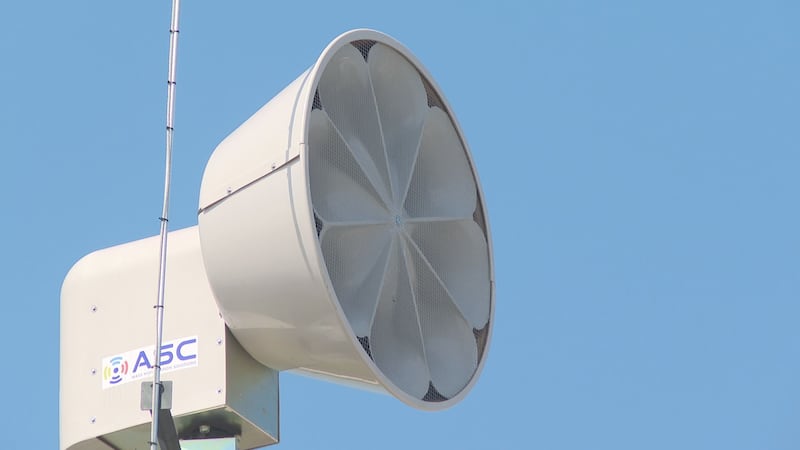 Published: Aug. 28, 2023 at 4:19 PM EDT
MADISON COUNTY, Ky. (WKYT) - Sirens went off amongst blue skies in Madison County on Monday, not to warn of incoming severe weather but rather a test the county's new outdoor alert system.
"We are in the process of installing a new outdoor warning system which people more commonly known as outdoor warning sirens - and the purpose of outdoor warning sirens is exactly what it sounds like - to alert people when they are outdoors," said Deputy Judge Executive Jill Williams.
So far this summer, Madison County has been hit hard with severe weather, with parts of the county still working to recover from the damaging hail storm that littered the landscape at the end of June.
However, it's not the storm damage that pushed the efforts for a new alert system. The change in the emergency alerts process was actually four years in the making.
"We are very fortunate here in Madison County that all of our emergency systems have been funded by the federal CSEPP program for the last 30 years," Williams said. "And so, very strategically, Judge Taylor and our fiscal court have been trying to upgrade those systems as close to the end of CSEPP as possible."
The CSEPP program was federally created in order to protect the community from chemical emergencies regarding the Blue Grass Army Depot.
correction: This story previously indicated that Blue Grass Army Depot was shut down. That is incorrect. Officials tell us that while the chemical mission at the depot by the Blue Grass Chemical Agent-Destruction Pilot Plant is entering another phase, which will still take a few years, 75% of the work at the depot has nothing to do with the chemical mission.
The new Alert System will have three sounds: a Test tone, a tornado warning tone, and a chemical emergency tone.
The City of Richmond hopes that, in light of this summer's severe weather, the community will use these sirens as tools to help them remain prepared in the future.
"It's important for all of us as individuals to be weather aware, to be aware of any kind of emergency that could pop up. That's why they are called emergencies because you never know what's going to pop up," Richmond officials said in a statement.
There will be two more testing days for the sirens: one this Thursday, August 31, at 10 a.m. and another September 7, at 10 a.m.
Copyright 2023 WKYT. All rights reserved.