UK Fans React to Wildcat Kickoff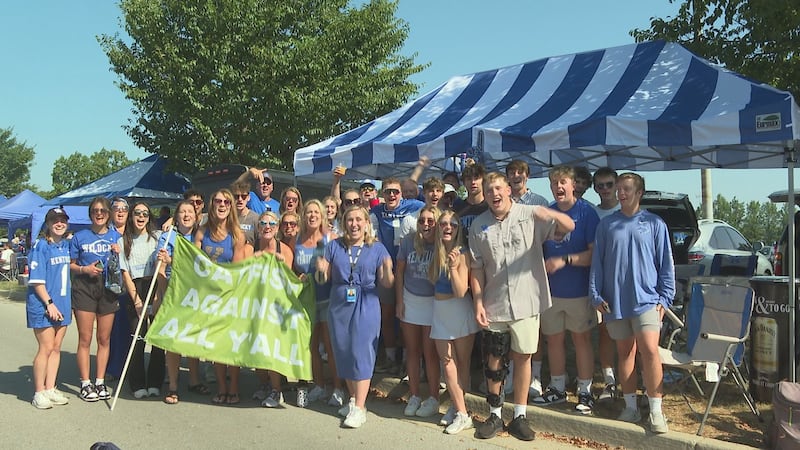 Published: Sep. 3, 2023 at 6:39 AM EDT
LEXINGTON, Ky. (WKYT) - It was National Tailgate Day - and what a better way to celebrate than UK Kickoff!
According to the American Tailgater Association, Tailgating began in 1869, during the first intercollegiate football game, which was between Princeton and Rutgers Spectators gathered to grill sausages at the "tail end" of a horse, giving rise to the name.
Now, at Kroger Field - tents and cars filled the area - packed with excited fans for UK Football Kickoff today - all sharing their favorite ways to celebrate Caturday
"Has to be the tailgating! The best in the blue grass, right here, today!" said John Veith
"Bring your party pants" reminded Ben Manning.
And the self acclaimed Mayor of Tailgate Township said, "I would say whatever you do, go all in. Bring plenty of food, plenty of drinks and plenty of friends"
Fans were grilling and chilling throughout UK's campus - with everyone relishing in their love of UK football and why they will always support the wildcats
Andre Kinney 1:01
Event Staff member Andrew Kinney stated, "When you talk UK football, its been through the valley's and its been to the mountaintop"
And despite it being a noon game and temps feeling extra toasty - nothing can stop that wildcat spirit! No matter how you celebrate National Tailgate Day its always going to be a Big Blue celebration.
Copyright 2023 WKYT. All rights reserved.