Kentucky man hits it big with Mega Millions ticket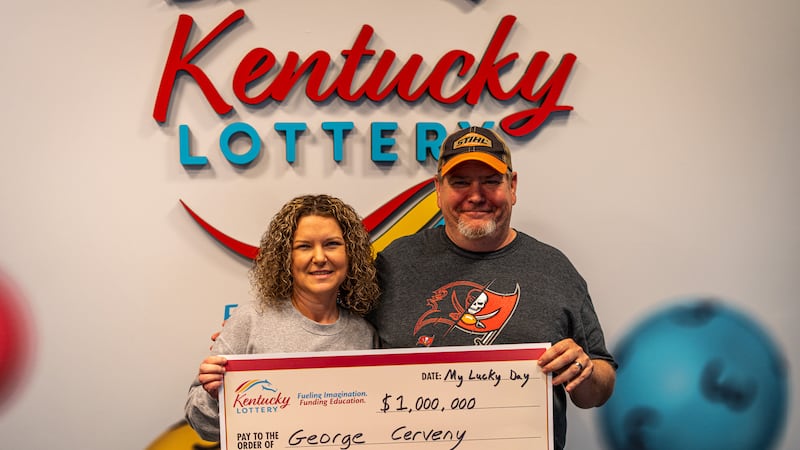 Published: Sep. 21, 2023 at 11:00 AM EDT
CORBIN, Ky. (WKYT) - A Kentucky man hit it big in the latest Mega Millions drawing.
Kentuck Lottery officials say George Cerveny of Corbin, Ky., went to bed Tuesday night not thinking too much about that night's Mega Millions drawing, but on Wednesday, it was the only thing on his mind.
"I saw the numbers [Tuesday night] and thought those look real good, real good numbers, and they looked familiar, but it didn't hit the three number, and of course, that's the [Megaball], and I thought, 'okay, time to go to bed.'"
Come to find out, Cerveny won $1,000,000 playing the Kentucky Mega Millions game. He purchased the ticket at the Circle K on Gordon Hill Pike in Corbin.
"I went to bed a millionaire and didn't even know it," he said. "I've played the same numbers for years, and this morning I got a phone call from one of my employees saying, 'Hey call Circle K. The manager's trying to get a hold of you.'"
He matched the five white numbers for the $1,000,000 prize.
"I did a little dance hoping it was real," Cerveny told lottery officials. "It took us a minute because I finally pulled the tickets out and checked them, and we were like, 'Oh, hell yeah.'"
Cerveny said he's bought tickets at the same Circle K for about ten years but has never won more than a few dollars; this time was different.
Cerveny and his wife Jennifer drove to Kentucky Lottery Headquarters on Wednesday, where they received a check for $715,000 after taxes.
"We're going to get out of debt. That's probably the answer for most people, but we're going to get out of debt and not have to worry about it…and figure out a nice vacation," he said.
Circle K will receive $10,000 for selling the winning ticket.
Copyright 2023 WKYT. All rights reserved.