Jordyn Rhodes collects SEC offensive player of the week honors
Rhodes broke the program's all-time goals record in Kentucky's win over No. 9 Alabama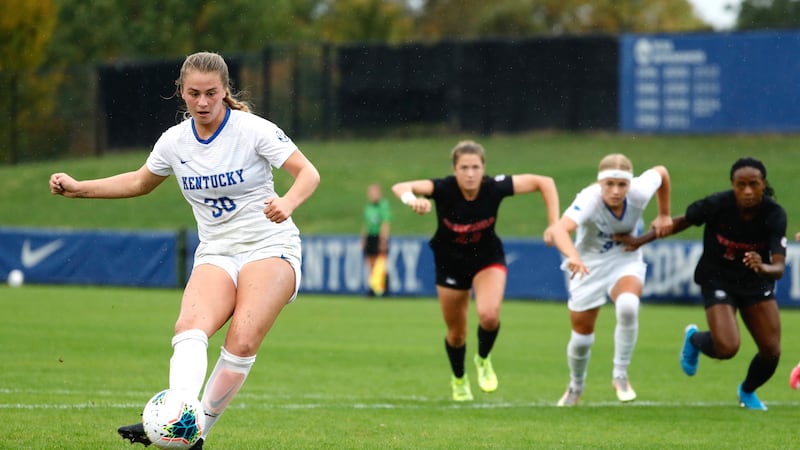 Published: Oct. 2, 2023 at 3:58 PM EDT
LEXINGTON, Ky. – Following a historic two-goal performance in Kentucky's win over No. 9 Alabama last Friday, Wildcat fifth-year Jordyn Rhodes was selected as the SEC Offensive Player of the Week, it was announced by the conference on Monday.
With her two goals against the Crimson Tide, Rhodes became Kentucky's all-time leading scorer with 45 career goals at UK, passing Kim LaBelle's total of 44 which has stood since 1997. The victory over Alabama was the program's first win over a top-10 team since 2014 and its first over a ranked opponent since the 2016 season. It was also the first SEC win for the Cats since Oct. 24, 2021 against Missouri.
Rhodes now has nine goals on the 2023 season, tied for the most in the SEC alongside Missouri's Kylee Simmons. She also boasts five game-winning goals on the year, the most of any player in the conference, and has two multigoal games.
This week's award is the second weekly honor of the season for Rhodes, who was also named Offensive Player of the Week on Sept. 4. The forward now has three SEC Weekly Awards for her career.
Kentucky next takes the pitch this Thursday for a road match at Tennessee at 7 p.m.
Copyright 2023 WKYT. All rights reserved.