Reed Sheppard scores 25 to lead No. 17 Kentucky in 101-67 rout of Stonehill
Kentucky (3-1) made 17 3-pointers, including 10 in the first half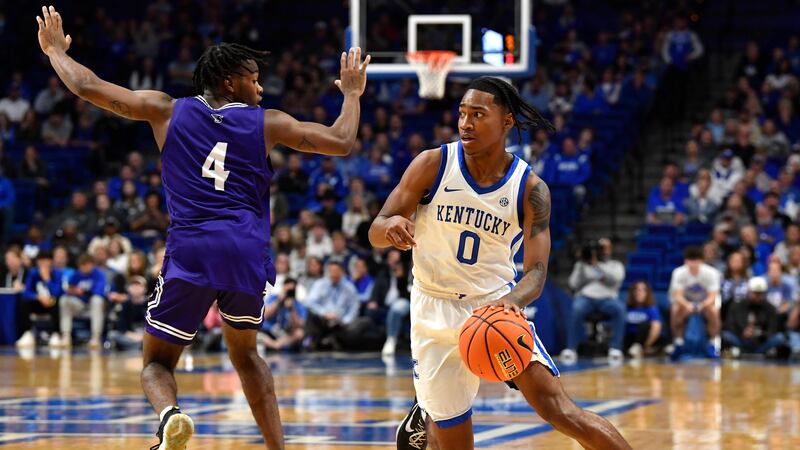 Published: Nov. 17, 2023 at 10:30 PM EST
LEXINGTON, Ky. (AP) — Freshman Reed Sheppard scored 25 points to lead No. 16 Kentucky to a 101-67 win over Stonehill on Friday night.
Sheppard added seven assists and three steals to lead four players in double figures. Kentucky (3-1) made 17 3-pointers, including 10 in the first half. Sheppard led the team with seven.
Rob Dillingham, also a freshman, scored 20 points for Kentucky, and Antonio Reeves and Tre Mitchell added 15 each.
Coming off an 89-84 loss to No. 1 Kansas in the Champions Classic, the Wildcats showed no signs of a letdown and put the game beyond reach after the Skyhawks scored the first five points.
Trailing 10-5 three minutes into the contest, the Wildcats responded with a 25-5 run, capped with a 14-0 spurt for a 30-15 lead.
Kentucky scored a season-high 58 points in the opening half.
Max Zegarowski and Tony Felder led Stonehill (1-4) with 15 points each, followed by Jackson Benigni with 11.
BIG PICTURE
Stonehill: The Skyhawks have played four of their first five games in the road and surrendered more than 100 points in three straight losses to No. 5 Connecticut (107-67), Saint Joseph's (100-56) and Kentucky. The contest against the Wildcats was the program's first against a Southeastern Conference foe.
Kentucky: The Wildcats began a four-game homestand. Kentucky is poised to make a jump in the Top 25 following the loss to Kansas in the Champions Classic on Tuesday night. Kentucky has proven to be a threat behind the arc and has made 39 3-pointers in the past two games.
UP NEXT
Stonehill: Visit Texas A&M Commerce on Monday.
Kentucky: Host Saint Joseph's on Monday.
Copyright 2023 The Associated Press. All rights reserved.