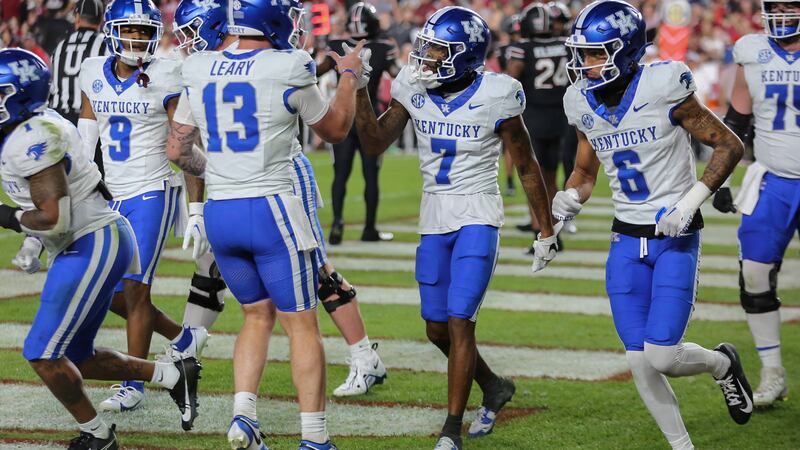 Published: Nov. 18, 2023 at 11:00 PM EST
COLUMBIA, S.C. (WKYT) - The University of Kentucky Wildcats football team (6-5, 3-5 SEC) falling 17-14 to the South Carolina Gamecocks (4-6, 2-5 sec) inside Williams-Brice Stadium in their Southeastern Conference finale. The Gamecocks are 5-1 at home.
South Carolina got the scoring going first when fifth-year senior quarterback Spencer Rattler found fifth-year wide receiver Xavier Legette on a 13-yard touchdown pass. Senior placekicker Mitch Jeter made the point-after-attempt to give SC a 7-0 lead. Jeter would nail a 23-yard field goal to end the quarter, giving the Gamecocks a 10-0 lead after the first quarter.
In the second, the Wildcats would find the end zone when fifth-year quarterback Devin Leary went over the middle to sophomore wide receiver Barion Brown. Senior kicker Alex Raynor hit the extra point to cut South Carolina's lead to three. Kentucky trailed 10-7 at halftime.
UK would get it's first lead of the game with 8:42 on the clock in the third quarter when fifth-year running back Ray Davis scored on a 31-yard rush to give the Cats a 14-10 edge.
In the fourth quarter, Rattler and Legette connected again on a 17-yard touchdown to retake the lead, 17-14, capping off a nine-play, 74-yard drive.
Leary went 17-34 for 171 yards, one touchdown, and one interception. Davis had 12 carries for 61 yards and a TD, along with one catch for seven yards on three targets.
Sophomore wide receivers Dane Key and Barion Brown each eclipsed 1,000 career yards during the game.
Sophomore defensive lineman Deone Walker led the way for the defense with nine tackles (eight solo), a sack, a quarterback hurry and two tackles for loss.
Rattler went 19-27 for 207 yards and two touchdowns, both to Legette who had 94 yards on six catches and ten targets.
Up next, the Cats go to 10th-ranked Louisville (10-1, 7-1 ACC) for the Governor's Cup showdown at Cardinal Stadium. Kick-off time and the TV broadcast is set to be announced on Monday. UofL has already announced it is sold out.
Copyright 2023 WKYT. All rights reserved.