UK Women's Basketball falls at FGCU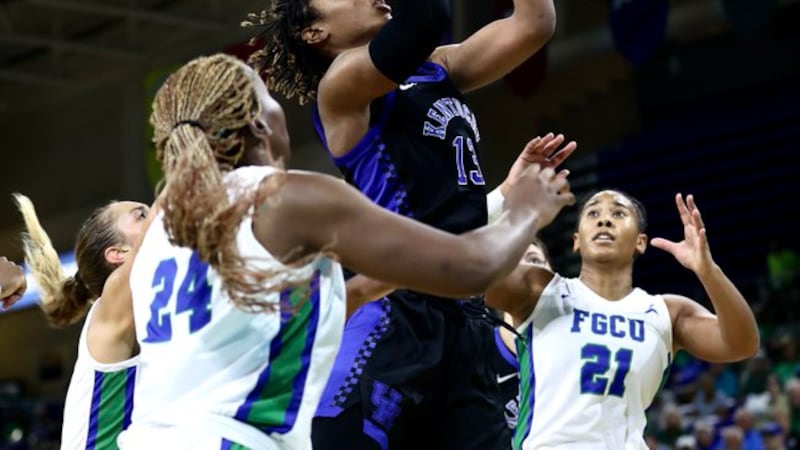 Published: Nov. 19, 2023 at 6:08 PM EST
FORT MYERS, Fl. (WKYT) - Kentucky women's basketball (2-2) fell to Florida Gulf Coast (3-1) 59-48 on Sunday.
Sophomore guard Amiya Jenkins scored a game-high 18 points and grabbed six rebounds, while senior forward Ajae Petty added 15 points and 13 rebounds in the loss. No other Wildcat scored more than four points.
Kentucky was again without senior guard Maddie Scherr, who continues to deal with an ankle injury. Her status remains day-to-day.
FGCU opened the game on a 7-0 run, hitting three of its first five shots from the floor. Meanwhile, the Cats turned the ball over twice and had not attempted a field goal when they called a timeout early. FGCU would lead 11-0 before Kentucky got a basket from Amiya Jenkins with 5:49 left in the first period. Jenkins then hit a three to cut it to 11-5. The Eagles went to the locker room with a 30-19 advantage.
FGCU opened the third quarter with a 12-2 run to take a 42-21 lead and would hold a 55-31 lead through three periods.
Kentucky would rally in the fourth quarter, running off 13 points in a row to get within 11 points, 55-44, with 5:40 to play. FGCU would score the next four points to extend the lead to 59-44. Kentucky scored the last four points to provide the final margin.
The Cats return to action on Thursday in the Paradise Jam in the Virgin Islands, facing N.C. State. Tipoff is set for 3:15 p.m. ET and the game can be seen on ESPN Plus.
Copyright 2023 WKYT. All rights reserved.