Weather Anchor/MMJ
Rockford, IL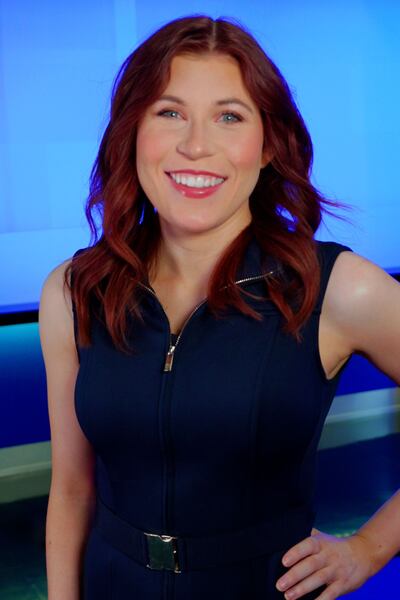 WHERE WERE YOU BORN AND RAISED: Arlington Heights, IL and raised in Crystal Lake, IL.
WHAT COLLEGE DID YOU ATTEND AND WHAT WAS YOUR MAJOR: Illinois State University. Journalism
WHY DID YOU GET INTO THE NEWS (OR SPORTS) BUSINESS/BECOME A JOURNALIST: I originally wanted to go into the FBI and work as a behavioral analyst. My goal has always been to help people, and so I took the investigative journalist route instead.
FAVORITE THING ABOUT BEING A JOURNALIST: I love meeting new people and being able to tell their stories. Not everyone's voices can be heard, but so many deserve to have one. I want to be a voice for the people who don't have one.
WHAT IS THE ROLE OF A JOURNALIST AND A TELEVISION STATION IN OUR COMMUNITY: The role of a journalist is to tell a story and give people a voice when they don't have one.
WHAT DO YOU DO OUTSIDE WORK: I read, spend time with my family because we are very close, and spend time outside. I love spending time outside in nature.
WHO IS THE MOST IMPORTANT PERSON/PEOPLE – OR ANIMAL - IN YOUR LIFE AND WHY: My mom is the most important person in my life because she raised me and my sister as a single mom. She did everything in her power to make sure we grew up happy and healthy. She is the strongest woman I know.
TELL US SOMETHING ABOUT YOURSELF THAT PEOPLE WOULD BE SURPRISED TO KNOW: I love to paint, and I am not too bad at it. I am really good at painting landscapes.
WHO HAS BEEN THE BIGGEST INFLUENCE ON YOUR LIFE AND WHY: My mom and my best friend, Nicole, have been my biggest influence's because they have taught me some very good to know life lessons and made me a better person.
WHAT IS YOUR FAVORITE DRINK: Coffee.
WHAT IS YOUR FAVORITE DINNER ENTREE: My favorite dinner entrée is a medium rare 8 oz sirloin steak with garlic mashed potatoes.
WHAT IS YOUR FAVORITE DESSERT: Crème Brulé and chocolate strawberries.
WHAT IS YOUR FAVORITE HOLIDAY AND WHY: Christmas is my favorite holiday because of the beauty and joyful spirit it holds. The music is uplifting and happy, the food is savory, and the decorations are beautiful. It just is a holiday of love and happiness and nostalgic smells.
WHAT IS YOUR FAVORITE SEASON AND WHY: Fall because my birthday is during it, and I love spooky season. The colors are gorgeous, and the food and activities are so fun!
WHAT IS YOUR FAVORITE SPORT: My favorite sport is football; I grew up around people who played and just fell in love with the sport.
NAME THREE OF YOUR FAVORITE MOVIES: Fast6, Conjuring series and any Marvel movie.
NAME YOUR FAVORITE BOOK/AUTHOR: The Cellar by Kate White.
WHAT IS THE MOST DARING THING YOU'VE DONE: I traveled to Europe with my high school when I was 16 years old and saw four different countries.
Education
Illinois State University, Journalism
Updated: May. 17, 2023 at 7:59 PM EDT
|
By
Kayleigh Randle
and
Andrew McMunn
After he saw his father-in-law become terminally ill and two other family members die from addiction, Bob Hopkins said his path became clear.
Updated: Dec. 5, 2022 at 4:46 PM EST
|
By
Kayleigh Randle
and
Emily Van de Riet
At only 3 years old, a black Lab named Mocha is in the fight of his life after he was diagnosed with an unexpected fungal infection in his lung.