Barnhart says 'One-and-Done Coach' label unfair to Calipari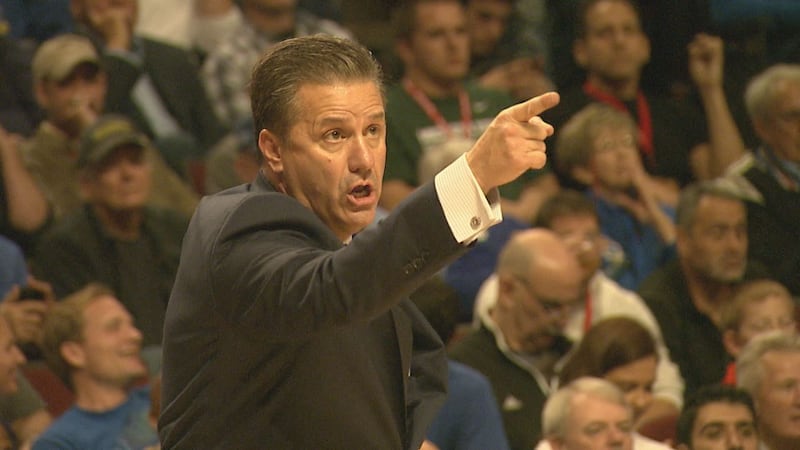 Published: May. 12, 2016 at 2:37 PM EDT
The NBA Combine is under way in Chicago, with dozens of young hopefuls looking to improve their status in the eyes of league executives who can make them rich, or crush their dreams. And for the seventh consecutive year there are multiple representatives from the University of Kentucky in the draft picture. John Calipari just keeps cranking them out.
And while coaches, scouts and front office-types study this year's talent, another sort of Judgement Night awaits. That would be June 23, when attention turns to the Barclays Center in Brooklyn, site of this year's NBA Draft. At least three Wildcats figure to hear their name called, a beaming Calipari on hand to administer a hug before each beats a path to the stage, sporting a brand new cap handed them by somebody representing their new employer.
And the haters will hate anew.
By now you'd think anyone who follows basketball closely enough to take an interest in NBA draft doings would understand that the rule forcing high school seniors to play at least one season of college ball has nothing to do with the NCAA. It's a regulation created by the league to protect it from itself. Too many owners and general managers were rushing to draft prep stars, hoping each would be the next Kevin Garnett or Lebron James. Too many of them turned out to be Kwame Brown.
Calipari has seen 15 of his UK players (16, if you count Enes Kanter) stay in Lexington for their freshman years before packing up and moving on, the scene playing out on Draft Night each summer, branding all over again him as the One-and-Done Coach.
In fact, he was hit with that accusation of sorts on a recent recruiting trip. At his news conference Wednesday, Calipari said he was in the middle of his pitch, which included the usual assurances that matriculating is brutally tough at Kentucky, where nothing is promised. Fishing rods vs. free fish, etc., no guaranteed starting jobs or minutes. That, he said, was when the recruit's mother responded with, "All you talk about is the NBA."
The tag lingers, it seems, no matter what he does or says. And that's not fair, according to his boss.
"I think he has been an amazing ambassador for the game of basketball," UK Athletics Director Mitch Barnhart said in a recent interview, "if you listen to him long enough. (But) most people stop listening, unfortunately pretty quickly, because they don't like the things he has to say."
And what the UK coach has been saying is all parties need to gather and hammer out a solution that would do away with a prep star dabbling in college basketball before he tries to climb the golden stairs to the NBA.
And this from a guy who is working the system just fine as it is, thank you. Calipari is about to begin his eighth season in Lexington ("Do you guys feel bad how much I've aged?" he asked the media on Wednesday. "Does that bother anybody here?"). In the previous seven years he has taken four teams to the Final Four, winning one national championship.
"He is very smart and very thoughtful and he loves the game," Barnhart said. "If he didn't love the game, and he was out here saying, 'This would be the best thing for Kentucky…' We're fine. We're doing ok. We're succeeding under the premise we've got. He's only trying to do it for the betterment of the game.
"He loves the game of basketball and he wants to see it succeed. If people will listen long enough, he's got a good message, and it's okay."
Calipari has said he doesn't spend much time discussing the NBA with his players. He said he did challenge Skal Labissiere when the freshman from Haiti told him of his plans. "I more or less listened to him," Calipari said, "and there's no question that he wanted to go. He said, 'Coach, I have to do this. I'm prepared.' I asked, 'What makes you think you're prepared?' Physically, he just has to catch up."
Anyone who watched Labissiere run up and down the court three times this season can tell he's nowhere close to ready for the rigors of the NBA. But he's 7-feet tall with a silky jump shot. And soon, he'll be able to send real money home to his family.
Still, Calipari will be criticized. Barnhart believes he heard a back-handed swipe during the final moments of the NCAA championship telecast, as Duke was putting away Wisconsin.
"I was fascinated by Jim Nantz's comments: 'In an era of one-and-done, isn't it wonderful to have a team like this that wins the national championship?'" Barnhart said. "That's interesting. He then went to the Masters the following week and you never heard a word about the one-and-done (Jordan Spieth, who spent one year at Texas) on the golf course, winning The Masters (last year). Wow, Jim, where's that conversation?"
Not that Barnhart, who played golf collegiately, was knocking Spieth. "I respect Jordan Spieth's talent and he should have the right to do what he's doing," he said. "He's very good for the game of golf."
But, he maintains, his guy is equally good for college basketball. And so are his players.
"Our guys, under the rules they've been given, have done a marvelous job representing Kentucky and they're deserving to be able to do what they need to do," Barnhart said. "They shouldn't be criticized for that. Is it what everyone wants? Not everyone, but for them, under the rules, the way it's structured, they should be able to do what's best for them and their families."
He's right. But it won't play out that way. It never does.