Beshear files lawsuit challenging Bevin's decision to dismantle state boards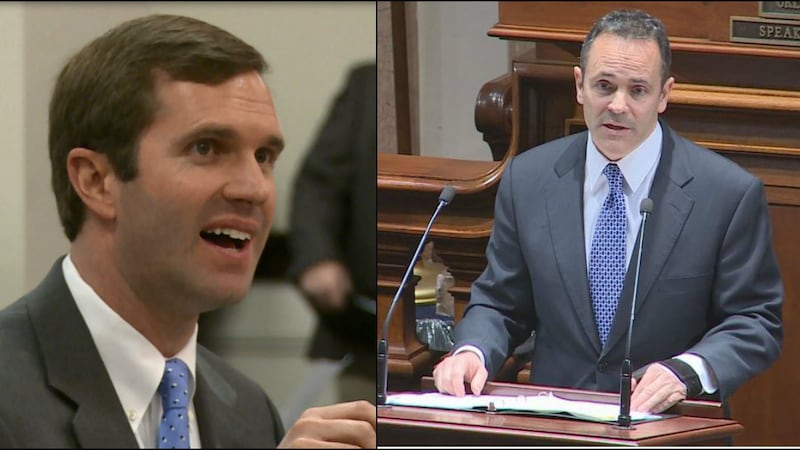 Published: Jun. 22, 2016 at 6:04 AM EDT
Attorney General Andy Beshear is filing a legal complaint to intervene against Governor Matt Bevin's recent overhaul of against the Kentucky Retirement System Board of Trustees.
"Simply put, the governor's claim of power here threatens our very liberty - the very protections we have put into law for citizens of this Commonwealth," Beshear said during a news conference Wednesday afternoon.
In the complaint, the Office of the Attorney General is asking the court to also consider the similar executive action against the University of Louisville Board of Trustees.
Beshear said the executive orders issued by Governor Bevin on Friday dissolve specific statutes passed by lawmakers about the dynamic of boards under Kentucky law.
Beshear said he will also file for a temporary restraining order to keep the governor's actions from going in to place.
"These moves eviscerate every check and balance on these boards and effectively makes the governor the head of U of L and KRS. If left to stand, they would raise a whole host of conflict issues," Beshear said.
The governor's communications director, Jessica Ditto, released the following statement:
"Six short months ago, Attorney General, Andy Beshear, personally selected as his top law enforcement deputy a lawyer who recently pled guilty to federal bribery charges. Since then, Attorney General Beshear has attempted to change the subject by filing frivolous lawsuits and traveling around the state handing out fake checks for funds he had no role in securing.
"His filings today are, once again, purely political in nature. Sadly, this court room circus act is what the people of Kentucky have come to expect from him. It is more than a little hypocritical, however, considering that Attorney General Andy Beshear's own father relied on the exact same statutory authority to reorganize similar organizations in state government more than 100 times in eight years. Governor Bevin's executive orders stand on solid legal ground.
"Governor Bevin will continue to do the job he was elected to do. Attorney General Beshear's frivolous political lawsuits will not deter the Bevin Administration from working to fix Kentucky's economy, protect the pensions of teachers and state workers, and clean up the mess and corruption left behind by the previous administration."