KSP seeking suspects in double murder after 2 bodies found in 2 counties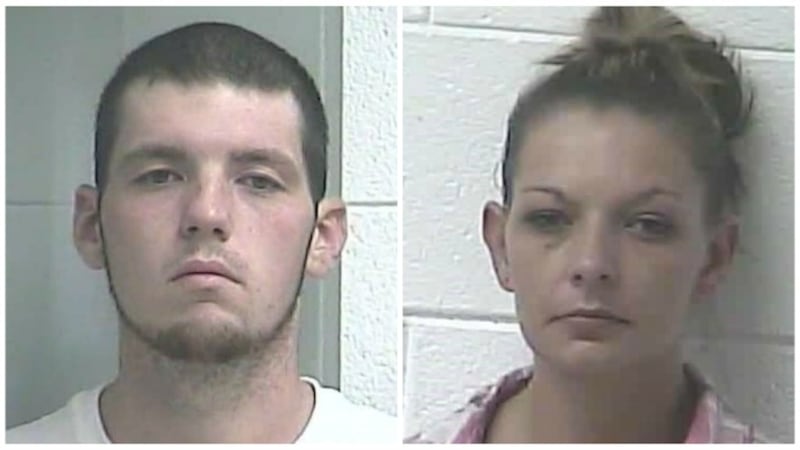 Published: Jun. 4, 2016 at 7:08 PM EDT
Kentucky State Police are searching for two men they believe are suspects in a double murder.
The bodies of Brandy Davidson, 25, and Devin Payton, 33, were both found over the weekend. State Police had ruled their deaths a homicide.
State Police are asking the public for help in locating Eugene Wade Jr., 36, and Devante Hall, 24 in connection to their deaths. Wade is from Shelbyville and Hall is from Dayton, Ohio. Both men are considered armed and dangerous.
A fisherman in Montgomery County found Payton's body along the water under the Slate Creek Bridge near Bedford Road around 1:45 p.m. Saturday.
Then Sunday morning, Davidson's body was found near a cabin in Wolfe County.
Two people already been arrested in connection to the case.
Kentucky State Police have charged Talmadge Branham and Carla Hunt with tampering with physical evidence.
According to their arrest citations Hunt and Branham washed blood out of a car that was used to transport the body from Wolfe County to Montgomery County.
State police say the two were with three other men at a rental cabin in Wolfe County when two of those men got into a fight with the third, and shot him.
They say his body was found beneath that bridge.
The citations say Hunt and Branham drove the other two men, who police now believe are Wade and Hall, to Lexington. The pair is then accused of stopping in Winchester to spray blood out of the car they had rented. It says they then returned that rental car to Enterprise in Mount Sterling.
Anyone with information on where Hall or Wade may be is asked to contact Kentucky State Police Post 8 at (606) 784-4127.