Central Kentucky schools turning to yoga to combat stress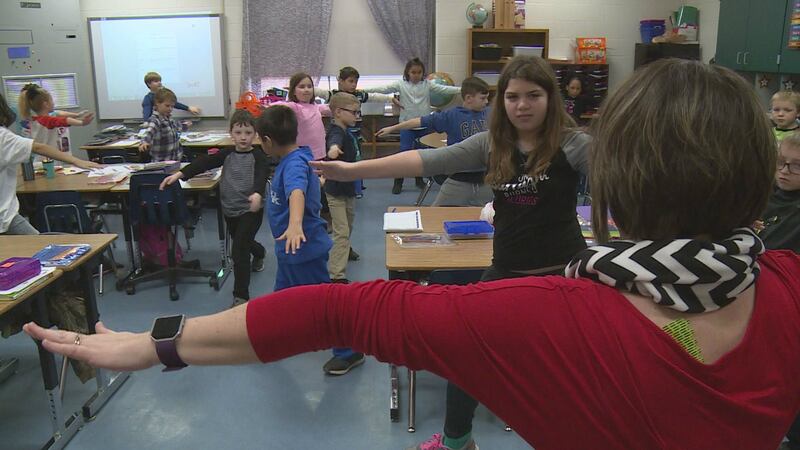 Published: Mar. 1, 2018 at 5:34 PM EST
The American Psychological Association says the stress levels of Americans are at an all-time high, increasing last year for the first time in a decade.
So if we as adults are stressed out, what about our children?
One way to combat stress is yoga which is growing in popularity across the country.
Last year nearly 37 million Americans practiced yoga that can improve balance, strength and reduce stress.
Its calming effect now has many school districts turning to the practice as a way for their students to cope with the everyday ups and downs that life can throw their way.
In Scott County, school officials at Southern Elementary have seen big changes after adding yoga to their curriculum.
For the students at Southern there is the pressure to make good grades, dealing with bullies and even school safety.
When it comes to all that worrying, Lexington psychologist Katherine Stone says she sees something lacking when it comes to young people and stress.
"I certainly see children that don't seem to have the coping skills that they need to deal with even the daily bumps and ups and downs," Dr. Katherine Stone said.
At Southern, principal Bryan Blankenship recognizes the stress his students face.
"Sometimes those stresses manifest into behaviors that are not conducive to classroom learning," principal Bryan Blankenship said.
To help combat that stress and promote well-being Southern has turned to yoga in the classroom as another learning tool.
"If you are like stressed out, like mad or anything, you can do a yoga pose and it will calm you down," student Ethan Wallace said.
This is the first year students and staff are taking part in the Yoga 4 Classrooms program.
In Jillian Anderson's library, yoga and books now go hand in hand.
"So if I have a group that maybe comes in a little rowdy it's a great method for me to use in order to get them to calm down. Maybe they have sat a while after we've read a story or two and then we can get up and do a yoga pose and it's controlled, but they also get to get up and move," Jillian Anderson said.
It's a new subject that like any other can be difficult at times to learn.
Despite the learning curve, students here are seeing its benefits.
"It makes us focus really hard," one student said.
While movements like tree pose and mountain pose can help with balance and strength, techniques like balloon breath help students like Ethan Wallace control their breathing and stress level.
Since implementing yoga in the classroom principal Blankenship has already seen the benefit.
"I have seen a huge difference in the number of office referrals, they are down extremely, quite a bit from last year," Blankenship said.
While yoga may seem serious, there is some fun to be had with it.
"You get loose arms and start going very fast and let all your bad feelings wash out," a student said.
It's learning with a purpose for both students and teachers.
What students are getting from their warrior pose today is something teachers here think will be invaluable long after they leave the classroom.
"Our goal for them is to recognize when they need to use these strategies and we've seen that happen, and ultimately we would like for them to take these strategies home" Blankenship said.
Blankenship says the Yoga 4 Classrooms program was an expense, but he says he and staff feel it was an investment worth spending for their students.