Crossroads churches collect 14k turkeys for 115k Thanksgiving meals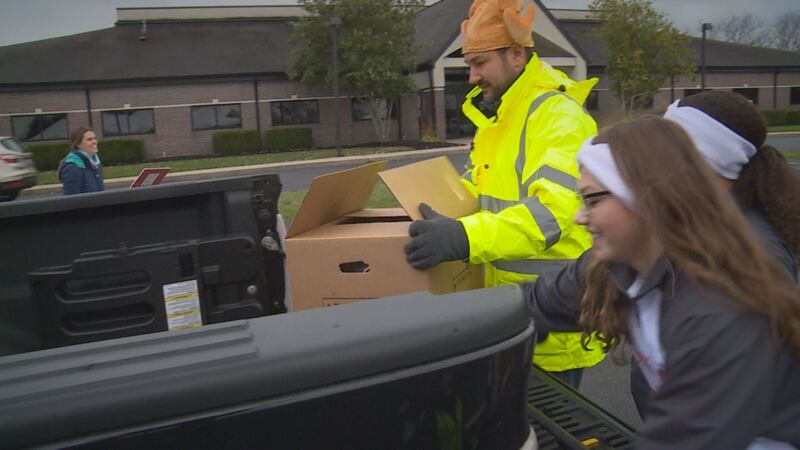 Published: Nov. 19, 2017 at 2:46 PM EST
Thousands of boxes of holiday ingredients are now set to feed more than 100,000 people in Central and Northern Kentucky, along with the greater Cincinnati area, this Thanksgiving.
The Crossroads church community held their annual food drive Sunday morning, at their more than a dozen locations across the region. Many church goers took the lessons learned inside their church,
and brought them to life outside, as cars drove up to the various drop-off sites.
"We like random acts of kindness, but that's not what this is. This is a very intentional act of kindness," said Crossroads Andover Lead Pastor Mark Stecher.
The 14 sites set a grand total of 14,000 boxes, which individually feed at least 10 people.
"It is just a beautiful feeling to provide the turkey and Thanksgiving experience for our brothers and our sisters, and our neighbors in Lexington, [and] around the state," said volunteer Tresine Logsdon.
WKYT stopped by one location in Fayette County, where volunteers were putting in hard work to bring in their share of boxes.
"We have over 500, for example, right here in the Andover campus," said Stecher.
Stecher says the Thanksgiving turkeys and sides will go to local families in need this week, but further explains that the outreach effort often goes beyond providing a simple meal.
"Last year I remember dropping off a turkey to a family that really, really needed it. That had no child support for a long time. Was really in the throws of it and I got a chance to go with my daughter, and just hang out with them. Pray for them, and really celebrate what Thanksgiving was about," said Stecher.
"Thanksgiving is a very special time for families to heal and to celebrate each other," said Logsdon.
Crossroads will also be sending 90,000 pounds of food from the drive to their partners in South Africa.