Deputies: Laurel Co. DUI crash led to bee attack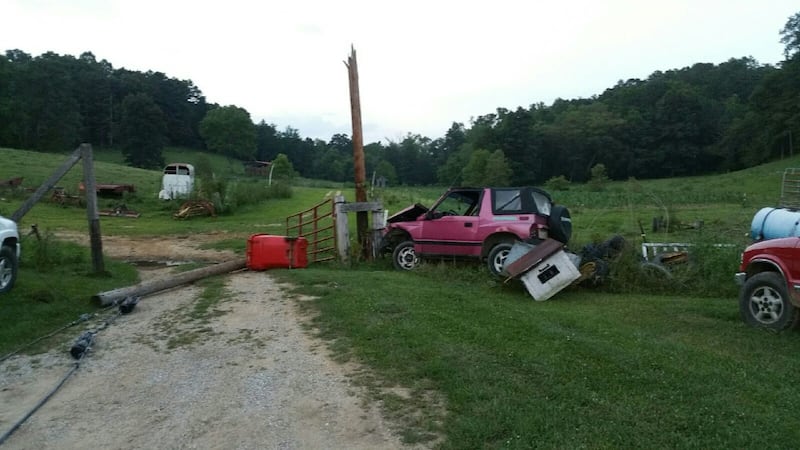 Published: Jul. 27, 2016 at 11:07 PM EDT
Crashing a car was bad enough, but investigators say it led to two people inside the vehicle being attacked by a swarm of bees from a disturbed hive.
It happened Tuesday night on Patton Spur Road in Laurel County. Neighbors along the road were still, well, buzzing about it on Wednesday afternoon.
"I just had got done feeding my chickens - watering them and stuff - and I walked back to my house there to get my phone so I could play a video game on it," said Gary Lee Anderson, who lives on the road and saw it all happen. "And all of a sudden I heard a big 'boom,' and I looked back out my door and the electric pole fell and the lines were falling. And the GeoTracker was sideways into the fence."
Then the folks inside the car, who investigators identified as Noah Elkins, 36, of East Bernstadt, and Priscilla Simpson, 35, of Dry Ridge, got a big surprise.
"He didn't know it - but he found out - that there was a hive of bees there," said Deputy Gilbert Acciardo with the Laurel County Sheriff's Office, "and he had disturbed them."
"And the guy came out, screaming and squalling, and running around about like a chicken with its head cut off," Anderson said.
Then Anderson says they ran up the road, grabbed a hose outside his home and started trying to spray off the bees.
"I told him, 'You need to get out of that water,'" Anderson said, "but I didn't know he was getting eat up by bees, I thought he was just high."
Deputies say Elkins and Simpson were under the influence. Simpson told them that she and Elkins had taken several drugs, including Suboxone, neurotin and Klonopin, investigators said.
Investigators said they had driven down the road looking for a place to swim.
"That girl in that little bikini, she had little red dots all over her," Anderson said.
Even Anderson got stung while he was out there.
Elkins and Simpson were taken to the hospital for treatment for injuries from the crash and for "numerous" bee stings, deputies said.
Elkins was cited for driving under the influence, as well as other traffic violations. Simpson was charged with public intoxication.
Needless to say, investigators call it an unusual case. But everyone around there hopes the two learned a serious lesson.
"I'd say by today they are [learning their lesson]," Anderson said. "If they feel like my leg feels, I'd say they're learning.
"I'd say they're itching real good," he said. "Because my ankle's itching. I think it's that poison from them bees."