Frustration grows for families of Lexington native, husband missing in Brussels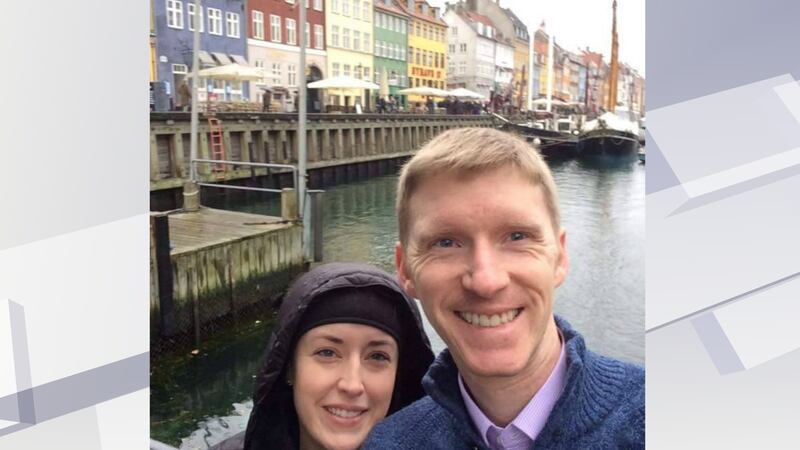 Published: Mar. 25, 2016 at 9:22 PM EDT
Family members say the wait for answers is becoming more frustrating, more than three days since Stephanie and Justin Shults were last seen before Tuesday's terrorist attacks in Brussels.
Stephanie's and Justin's parents are now in Brussels, joining other families whose loved ones are missing.
Betty Newsom, Stephanie's aunt, says her sister Carolyn Moore is tired and frustrated. They say they are getting little help from the Belgian government, but they hope that will soon change.
Secretary of State John Kerry placed a wreath at a memorial outside the Brussels airport on Friday, and at a joint news conference with Belgium's prime minister expressed his sympathy for the victims of the attacks.
will encourage the Belgian government to work with U.S. officials to help them get answers.
Newsom says her sister told her that families of the missing in Brussels are receiving one update each day. At the last update, some people had to be restrained as their frustrations boiled over, Newsom said she was told.
Their next update will be Saturday afternoon, she said.
Newsom says they have gotten no news since false reports surfaced Wednesday that the couple had been found alive.
On Wednesday a family member said he was misinformed about the discovery of a Lexington native and her husband who were missing after the Belgium attacks.
Levi Sutton, the brother of Justin Shults, took to social media Wednesday to share new details about Stephanie, a Lexington native, and her husband Justin who had not been seen since Tuesday morning's attack at Brussels airport and subway.
Sutton initially said his mother had been told by the State Department that the couple had been found alive, but the family did not have any details about their injuries.
Hours later, Sutton tweeted that his mother received a phone call from a social worker in Belgium who was helping Stephanie Shults's mother. She informed her that the State Department gave his mother incorrect information, according to a post on Twitter.
"They asked me to remove any and all posts from social media," he wrote. "This is exactly what we were trying to avoid and now I've told friends and family members things that weren't true. Obviously we just want Justin and Stephanie to come home. I apologize for the misinformation that was given to my family."
At least 31 people were believed to
in what appears to be a pair of brazen terrorist attacks in the city which has remained on high alert since the Paris attacks.
Family, friends and co-workers have been
.
"I've been hoping that my phone would ring and Justin or Stephanie would be on the other end, telling me they're OK," said Sheila Shell, Justin's mother. "And for me not worry, that they're fine. But that call didn't come."
Then on Wednesday afternoon, Shults's brother tweeted: "State department just told my mom justin&steph were found. We do not know the severity of their injuries or what hospital they're at."
In a second tweet, he said: "We are trying to make sure there is as little misinformation out there as possible so again this is all we know at this time. Keep praying"
Stephanie's aunt, Betty Newsom, told WKYT that her family had not received confirmation that Stephanie, 29, and Justin, 30, were found. Newsom said state authorities did not notified Stephanie's mother, Carolyn Moore, who is in Brussels, but they had heard the same thing.
Newsom said a friend of Stephanie's, who lives in Brussels, was heading to a hospital to check and see whether she was there.
Newsom later told WKYT's Garrett Wymer that the false hopes made an already emotional day that much tougher for the family.
"It gives you just an extreme high, then an extreme low. And when you're tired and frustrated, extremes are never good," she said. "We just want to hear that they're safe. Somewhere. Or that they've at least been found. And we can't get that confirmation, and we're now pushing - we're over 36 hours that they haven't been found."
WKYT contacted the office of Congressman Andy Barr who said they had reached out to the state department for confirmation. As of Wednesday afternoon, they had not received that confirmation.
Coworkers of Stephanie Shults said they were searching hospitals, trying to find the couple.
"The not knowing is the worst. Now it's been over 30 hours since anyone had any contact with them, so that's obviously frightening but you just got to try to stay positive," said Levi Sutton, Justin's brother-in-law.
Sutton says they are hoping the next phone call that comes in will be the call to bring word that they are OK.
Betty Newsom says her sister, Carolyn Moore, was in Brussels to visit her daughter and son-in-law, Stephanie and Justin Shults, who works for CLARCOR Inc. in the Brussels area. Newsom says Stephanie works for Mars, Inc. in Brussels.
Newsom said Moore had just spent a week with her daughter and was at the airport to catch her flight home at Brussels airport when the attacks occurred. She says Moore was knocked off of her feet, but did not suffer any serious injuries.
Newsom says her sister had not been able to reach Stephanie and Justin Shults since the explosion.
"We were hoping to hear something immediately that Stephanie and Justin had gotten to their car, or had gotten home, or had somehow gotten out of that airport," Newsom said.
Stephanie is a graduate of Bryan Station High School and Transylvania University, according to her aunt. She says Stephanie had received her master's degree at Vanderbilt and had recently moved to Brussels in June of 2014.
Multiple Nashville stations have reported that Justin's brother has said that the State Department told their family that Justin and Stephanie were not on the list of known casualties.
On Tuesday, Newsom said family members spent the day watching news coverage of the Brussels attacks, searching faces in the crowd, looking for any sign of Stephanie and Justin.
Newsom said family members were trying to stay positive and have faith as they wait for word about the couple.
"We love Stephanie and Justin and Carolyn, and are praying that we can get them back to Kentucky and Tennessee - quickly," she said.
On Friday, CBS News reported
.