Family releases statement on shooting death of Trinity Gay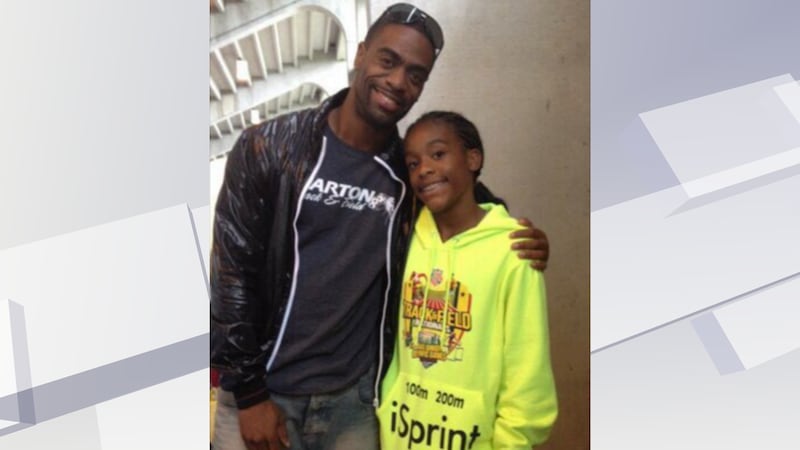 Published: Oct. 16, 2016 at 5:57 AM EDT
Trinity Gay, 15, a rising star on the track team at Lafayette High School, and the daughter of Lexington native and Olympian Tyson Gay, has died after a shooting at a Lexington restaurant.
The Fayette County Coroner says Trinity died from her injuries just before 5 a.m. Sunday.
Gay's family released a statement on Monday saying, "The family appreciates the outpouring of support during the loss of our beautiful Trinity. She will be truly missed by all. She touched so many people on so many different levels. We ask for your continued prayers and privacy during this difficult time."
The statement went on to say "We are a family that believes in love and forgiveness. We are also asking for prayers for the three men accused and their families during what is also a difficult time for them."
Lexington police say they responded to a call of shots fired at the Cook Out restaurant on South Broadway just before 4 a.m.
Police say people in two cars exchanged gunfire, then drove away.
Police charged three suspects in her death. All three appeared in court on Monday and entered not guilty pleas.
Officials say Gay was taken to UK Hospital with a gunshot wound to her neck. Police say she was not in either car. As of Sunday night, Lexington Police had tracked down two vehicles involved in the shooting.
On Sunday night, several friends of Trinity Gay got together to make sure her memory was not forgotten.
"Everyone just remembers her as helpful funny and just a good person to hang around she can make friends with anyone," Quantaz Cooper said.
WKYT talked to one of Trinity's friends, who was with her the night of the shooting.
"I just felt so bad because I just keep replaying her in my face 'you got to help me, God help me,' but there was nothing we could do. I was scared," Taylor Middleton told WKYT's Sabirah Rayford.
Middleton says she was next to Trinity when she was shot. She says they were in the parking lot when someone fired the first round of shots. She noticed Trinity was shot, but couldn't do anything at first. When the shots stopped, Middleton says some friends put Trinity Gay in the car and drove to the hospital.
"Trinity, like, leans against the door and when she went lay against the door, she like starts to fall asleep. So Lexi was like 'you got to get up, you got to get her up,' so I grab her and I start shaking her, and I was like 'come on Trinity got to stay up, you got to stay up," Middleton described.
She said when they got to hospital, Trinity was not in good shape. She says they couldn't tell the bullet struck Trinity in the neck. Middleton says it is a hard memory to carry.
"Just I really didn't want it to go down that way it shouldn't have been her," Middleton said.
Trinity's friends say they will continue to spread her memory to others. They say at a time like this it's important to be together. A vigil is scheduled for 8:00 p.m. on Monday at Lafayette High School. It will follow the freshman football game.
Fayette County Schools has activated their Crisis Team, and they will be at Lafayette High School on Monday to help students and staff who need help dealing with the loss of Gay.
Rosemont Baptist Church will open their doors to anyone who wants to pray or mourn Gay's death Monday afternoon. The minister to students said the sanctuary at Rosemont would be open starting about 3:15 Monday afternoon.