Matt Bevin sworn in as Governor of Kentucky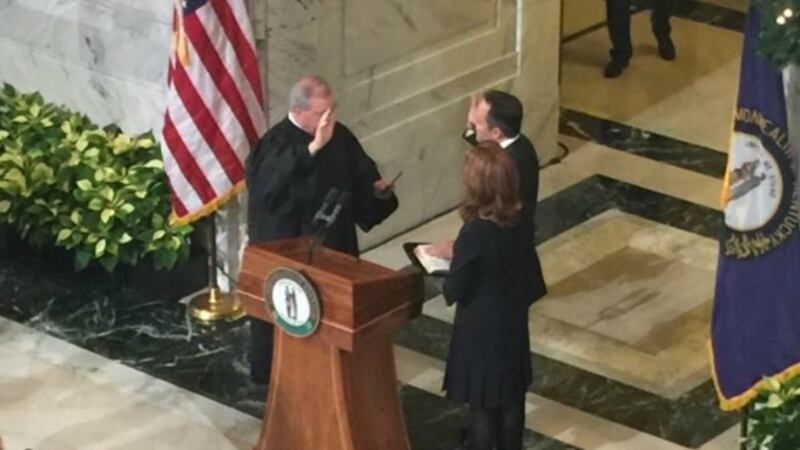 Published: Dec. 7, 2015 at 10:15 PM EST
Just after midnight Tuesday, Matt Bevin was sworn in as the 62nd Governor of Kentucky.
Bevin's inauguration will include many traditional governor inaugural celebrations such as a morning worship service, a parade, a public swearing-in ceremony and a "grand march" in the State Capitol Rotunda. As Inaugural Event Planner Kenny Bishop explains, history will also be made Tuesday.
"It'll be a part of the history books because Jenean Hampton is the first ever African American to be elected and sworn into statewide office in Kentucky," Bishop said.
Bishop estimates 2-3,000 people will witness the public swearing-in ceremony outside the Capitol, and with that- added security measures will be put in place.
"Although we always want this to be as open as it can be to the general public, you have to understand the times that we're in. We have a very thorough and very well-equipped, understanding security team who is on top of all those things. If they do their well and I know they will, they will have a presence at all of the inaugural activities. But it won't be an overwhelming presence that makes folks feel nervous about where they are," Bishop said.
"We are going above and beyond with every asset and resource that we have available including augmenting with extra manpower at the inauguration to ensure that Governor Bevin's inauguration goes without a hitch," Kentucky State Police Public Affairs Sergeant Michael Webb said.
The National Guard, Frankfort Police, State Police, agents with the FBI, ATF and Homeland Security will make a presence Tuesday.
"We have no specific credible threats regarding the inauguration tomorrow, but we are doing our due diligence to make sure we err on the side of caution," Sgt. Webb said.
Matt Bevin was sworn-in as Governor of Kentucky in a private ceremony at the State Capitol Rotunda at 12:01 a.m. Tuesday.
Watch WKYT's special coverage of the public swearing-in ceremony here from 2 to 3:30 p.m.