Hundreds of officers honor fallen officer Daniel Ellis during his funeral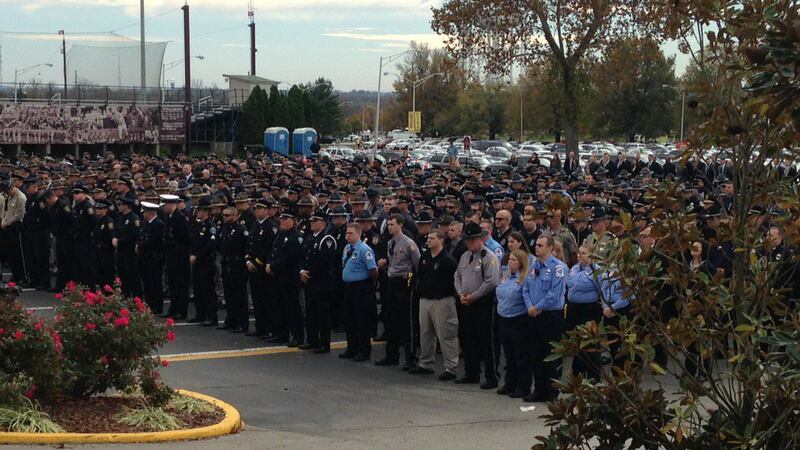 Published: Nov. 11, 2015 at 2:27 PM EST
As soon as the sun came up on Wednesday morning, officers started showing up on Eastern Kentucky University's campus.
Many officers from Kentucky and across the country came to Alumni Coliseum to give fallen officer Daniel Ellis a hero's farewell.
"Saying that I was broken hearted is putting it mildly," said Campbellsville officer Andy Warren.
Hundreds of officers walked into the services, burdened with heavy hearts. The officers who came from different cities and different states say they were all unified by the same badge.
"It doesn't matter what part of the country you're from, where you work or who you are. As soon as you pin that badge on you're part of the brotherhood and when we lose a brother we pay our respects," said Pat McCoy, an officer from Miami Township in Ohio.
It was difficult for the officers to say goodbye but they gave a hero's farewell to their fallen brother in blue when his funeral began at 11 a.m.
"We went to church together when we were young and then he transferred to Taylor High and that's where we became good friends," said Warren.
Campbellsville police officers who knew the 33 year old when he lived in Taylor County pushed through their own grief to support Ellis' family. As difficult as the day was, they said they came to comfort Ellis' family, especially his father who was a deputy.
"It's going to be emotional to have to look at him at this time, to have to talk to him under these circumstances knowing that his son has lost his life and paid the ultimate sacrifice," said Campbellsville officer Bart Gilpin.
Warren said, "It's going to be a very emotional day and it's going to be extremely difficult by being friends with Daniel and being friends with his family."
Warren told WKYT that Ellis died doing what he loved. He says he remembers how Ellis would tell him how excited he was to become a police officer when he was a student at EKU.