Jessamine Co. custodian finds kidney donor in school administrator, friend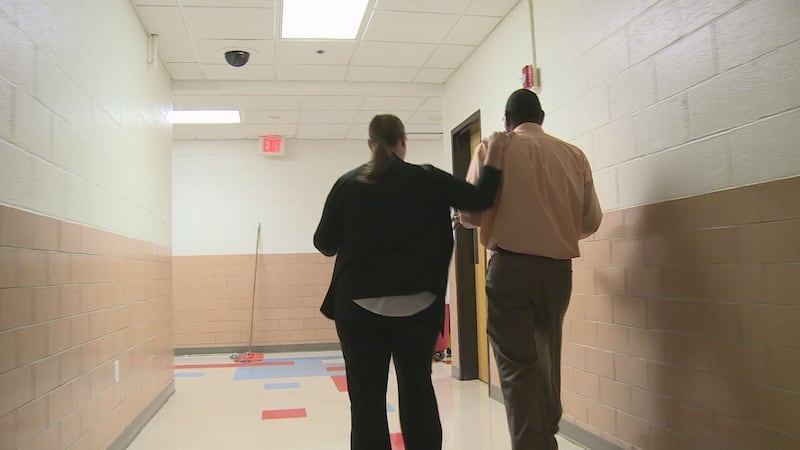 Published: Aug. 25, 2017 at 11:05 PM EDT
A Jessamine County custodian has helped others for more than a decade, working hard in an often-thankless job. But when he recently needed some help himself, he found it - in the form of a long-time co-worker, friend and, after next week, organ donor.
Ivan Graves has walked the halls at the school for years - first as a student at Jessamine County High School in the 1970s, now as a custodian at West Jessamine High School. Lately though, work has not been easy for him.
"You don't never feel good," Graves said. "But I've been blessed where the Lord has allowed me to come to work everyday and gives me the strength to do things."
Graves has been on dialysis for the last five years.
Graves has been a custodian for Jessamine County schools since 2003, when he started at West Jessamine High School. A few years later, he moved to the Jessamine Career and Technical Center, where he was head custodian. But as his health continued to worsen, he had to give up some responsibilites, and he returned to West in 2016.
For months he has needed a kidney donor. He found one - in the assistant principal's office.
Marci Smith, the school's curriculum resource administrator, has known Graves for a decade. She says for years she felt called to be an organ donor someday. When she found out she could give Graves a kidney, she knew that day had come.
Smith said she and Graves would talk often at school. She said Graves has a good heart, works hard and goes out of his way to help others. She said a lot of people respect him and think highly of him.
The odds, though, were slim that they would match for a kidney transplant - yet what are odds but a number? These two had faith.
"I'll never forget Ivan's face when we found out we were a match," Smith said. "And just the joy in his face, and the joy in his life that I've seen since. It's unmatched. To be able to bring that upon somebody - yeah. It's hard to even say how much that means to me and how blessed I feel."
Now the two are closer than ever, ready for the surgery that will bring them even closer and give Graves a second chance.
"It'll be the happiest day of my life besides when I got married and my kids was born. It'll be like that. The happiest day of my life. Because I'm getting a new life," Graves said. "I'm getting a normal life back. So that's a blessing."
Graves is getting the kidney, but Smith says this is truly a blessing for them both.
Their surgery is scheduled for Thursday. They both say they are a little nervous, but even more excited.