Judge says pension reform law is unconstitutional, state cannot enforce SB 151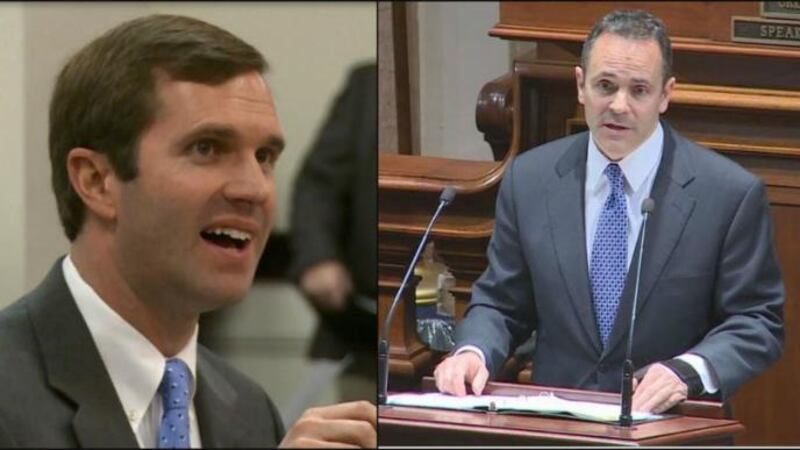 Published: Jun. 20, 2018 at 2:02 PM EDT
Franklin Circuit Judge Phillip Shepherd has ruled Kentucky's controversial pension reform law is unconstitutional.
Shepherd says the law looking to reform one of the worst-funded pension systems in the country was in violation of the Kentucky Constitution.
"The Court finds and declares pursuant to KRS 418.040 that SB 151 as enacted by the 2018 Regular Session of the General Assembly is unconstitutional and void because the General Assembly violated the Kentucky Constitution, specifically, the three-readings requirement of Section 46 and the majority-vote requirement of Section 46," Shepherd ruled.
Shepherd did strike down one of Attorney General Andy Beshear's arguments about the presiding officer following former Speaker Jeff Hoover's resignation. He ruled Speaker Pro Tem David Osborne was constitutionally authorized to sign legislation.
The state cannot enforce the pension reform law as a result of this ruling, but the governor's office will likely appeal this ruling.
"Today's ruling from Judge Shepherd was expected in light of his inherent conflict in deciding the validity of SB 151, and an appeal from our legal team is imminent," Gov. Bevin's communications director Elizabeth Kuhn said, "Judge Shepherd refused to consider whether or not the bill violates the inviolable contract when issuing his ruling, and he invalidated the bill based, in part, on a procedural argument not even raised by AG Beshear. The consequences of this ruling are tremendous for Kentucky because hundreds, if not thousands, of bills have previously been passed by the General Assembly using the exact same process as Senate Bill 151. If all of these bills are now invalidated based on Judge Shepherd's ruling, our legal system will descend into chaos. For example, cities and counties will go bankrupt without pension phase-in funding, and programs to combat the drug epidemic will be negatively impacted."
The attorney general says he believes his side will prevail if the governor does go forward with an appeal.
"Procedurally, the governor could file a motion," Beshear said in a news conference, "I don't think that would be successful."
The Republican-backed law would move new teacher hires into a hybrid plan that puts less risk on the state but doesn't guarantee them the same benefits. Supporters say it was a necessary step to keep the pension system solvent.
"We're not surprised Judge Shepherd sided with Democratic Attorney General Andy Beshear in his politically motivated lawsuit against the General Assembly's efforts to save our state retirement system," Republican Party of Kentucky communications director Tres Watson said in a statement, "We are confident this decision will be overturned upon appeal."
"We look forward to seeing this ruling appealed in the future, before there are severe consequences for those who have been well-served by many pieces of legislation passed by the General Assembly," Speaker Pro Tempore David Osborne said.
Shepherd did not make a ruling on whether Senate Bill 151 violated the involable contract, which states benefits provided cannot be subject to reduction or impairment by alteration, amendment or repeal.
Beshear said because of the judge's findings, he did not have to rule on his argument regarding that law.
Kentucky Education Association President Stephanie Winkler offered comments on the ruling, saying it was a victory for public employees.
"I just can't be more happy and excited for our public employees," Winkler said.