Kids take on cops at dunk tank during National Night Out in Frankfort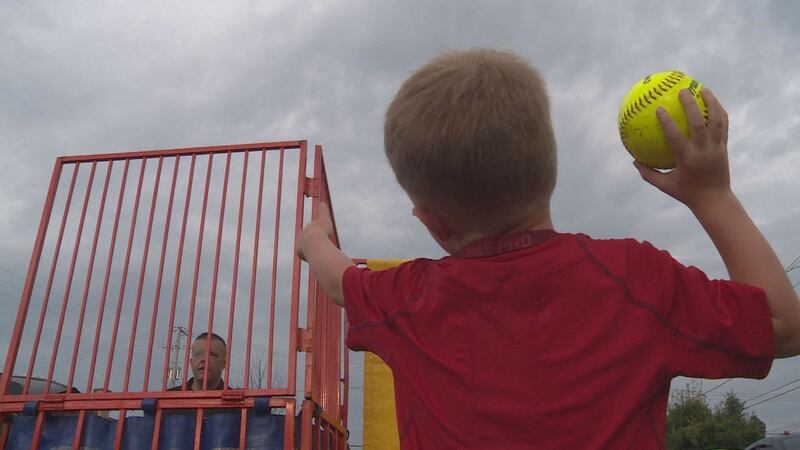 Published: Aug. 7, 2018 at 11:14 PM EDT
Tuesday marked the 35th anniversary of National Night Out for police and first responders across Kentucky and the country.
The annual event hopes to build relationships between police departments and the communities they serve, with the goal of making neighborhoods safer.
It's held on the first Tuesday of August for most states, and ranges from block parties, to parades, to cookouts.
In Lexington, celebrations included a meet and greet with neighborhood resource officers. The department's Emergency Response, Canine, and Traffic units also came out with their gear.
Further north in Frankfort, things were heating up between a group of kids, and officers who sat on the ledge of a dunk tank.
When 4-year-old Jackson Nance picked up a ball for his turn, it would have been a wise idea to call in for back-up. Nance threw a good hit, dunking a Frankfort officer into the cold water.
Frankfort also held canine demonstrations, special giveaways like plastic fire hats, and let children turn on vehicle sirens.
With such an important mission, Frankfort amped things up for 2018.
"This is a national event that we've been doing for years. We kind of revitalized it this year and tried to bring in food trucks and vendors," said Captain Chris Quire with the Frankfort Police Department.
Families also had the chance to get their children an ID and fingerprints made, in case of an emergency.
Even though the rain tried to wash out the fun, "The weather didn't stop us. We had hundreds of people come through and seen a lot of happy faces," said Quire.