Middle school students code robots and study DNA at UK camp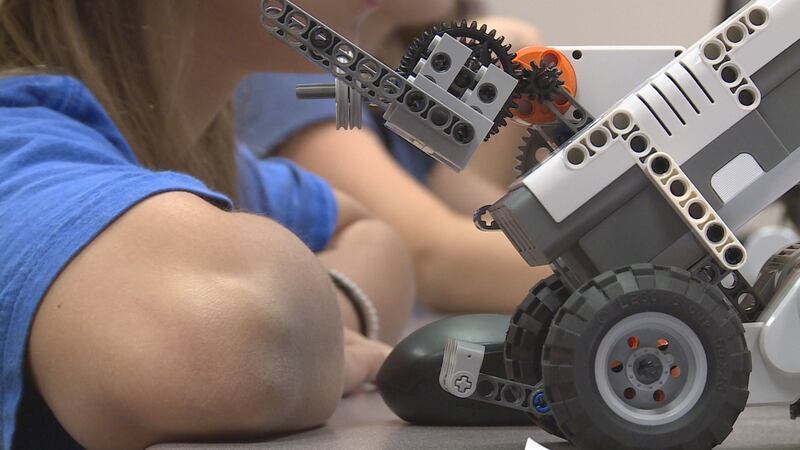 Published: Jun. 16, 2017 at 12:19 PM EDT
Friday wrapped up the 2017 See Blue STEM camp at the University of Kentucky, where hundreds of middle school students had the chance to do hands-on activities in the various STEM fields.
The three week summer program returned to UK classrooms once again this year.
We asked some students, "What do you want to be when you grow up?"
Camper Cate Cole said, "I want to act," while her lab partner Aliyah Hudson replied, "A famous basketball and softball player."
While the girls aren't aiming for a future job in the STEM community, that's not stopping their fun at STEM camp.
"They have different strength and power, and if you want it to go backwards or spin," said Hudson as she explained how the robots work.
Hudson says coding has been her favorite, followed by studying DNA.
Some of the campers say they don't learn things like robotics or engineering during the school year, and have loved taking part in the activities.
"My parents are like, 'it's going to be a good experience for you to know how to do this stuff when you're older,'" said Cole.
Administrators with the camp say it's a grade-free, and engaging way to get students interested in STEM subjects, along with serving students in the Bluegrass who may not otherwise have the opportunity to learn in the hands-on environment.
"It's an opportunity gap, there's a lot of summer learning loss that goes on especially with students who are in under-represented populations, who don't always get the chance to participate in activities such as these," said Dr. Margaret Mohr-Schroeder, Associate Professor of STEM Education at UK.
Organizers say they plan to hold the program once again next summer.