Richmond fundraiser held to send officers to Daniel Ellis tribute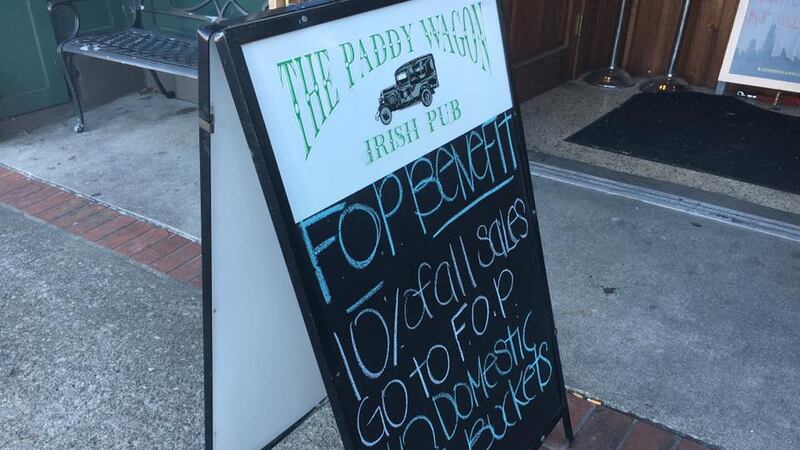 Published: Feb. 13, 2016 at 9:48 PM EST
The Madison County community continues to support the men and women who served alongside a fallen officer. Officer Daniel Ellis died in the line of duty last year. His fellow officers are making plans to see his name put on the fallen officer memorial in Washington D.C.
"We're usually here on sometimes Friday and Saturday, but Saturdays come down. It's sort of the neighborhood bar," Mary Jennings said.
Richmond's neighborhood bar had a different feeling Saturday night.
"It is different," Jennings said. "There's more people here, different people."
For some the Paddy Wagon is their regular spot, others this is their first time here but everyone has come together tonight to make sure local officers can get to a tribute for Officer Daniel Ellis.
"We don't come here too much," Logan Bicknell said. "The community's kind of banding together around it and around the bigger issue of violence against police."
Officer Daniel Ellis was killed in the line of duty. Many thought it could only happen in bigger cities, not the Richmond they feel protected in.
"It was sort of a wake up call and it really made people step up to the plate," Jennings said.
"I think instant fear that they do this on a daily basis, what they consider just their everyday job, may result in them not coming home," Stacey Wattenberger said.
But the community is making sure local officers make it to Officer Ellis' tribute in Washington D.C. Ten-percent of Saturday's proceeds from the Paddy Wagon will go toward that special trip.
"We will order lots of food and then just donate as well."
"It's nice to see everybody come out and support," Bicknell said.
Richmond police will be traveling to Washington D.C. in May for Police Week. That's when Officer Daniel Ellis' name will be added to the fallen officers memorial.