Trump promises to revive Kentucky's coal industry, make America great again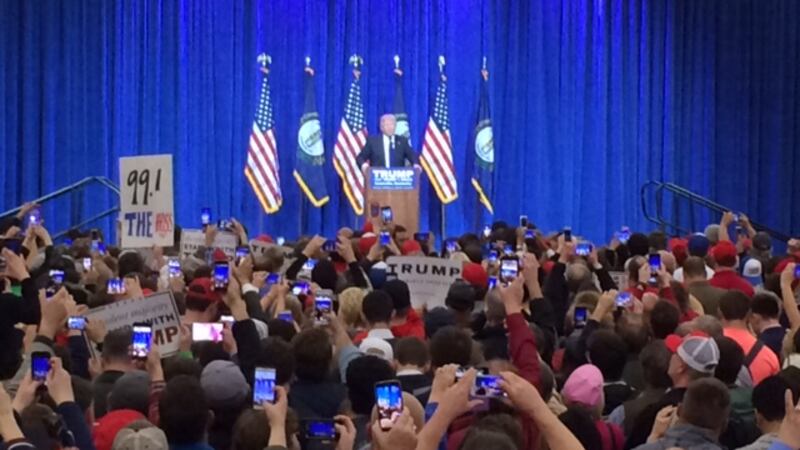 Published: Mar. 1, 2016 at 11:17 AM EST
Donald Trump, during a campaign stop in Louisville, promised to revive the coal industry in his plan to restore the American Dream and make America great again.
Trump, who took the stage at the Kentucky International Convention Center, spoke for about 45 minutes Tuesday afternoon. His speech covered a variety of topics, from how well he has done in the polls and the energy of his campaign to his plan to improve a sagging economy, create jobs and improve education. The Republican candidate took breaks to acknowledge the impressive crowd -- and to instruct security to throw out multiple people.
"People say the American Dream is dead," Trump said. "I'm going to make it bigger and stronger and better than ever. It's a positive theme: Make America great again. We'll make America great again."
Trump boasted that he would have a great Tuesday, referencing Super Tuesday -- when 12 states hold their presidential nominating contests.
Democrats will vote in 11 states and American Samoa, with 865 delegates up for grabs. Republicans will vote in 11 states, with 595 delegates at stake.
Trump and Democrat Hillary Clinton are eyeing an opportunity to pull away from their rivals on Super Tuesday.
Trump noted that a new CNN poll was released that had him ahead with 49 percent of the vote. He poked fun at the other GOP candidates in the race.
"There's something happening ... they've said it was a movement; this is really a movement," Trump said. "It's not about me; I'm a messenger," Trump said. "It's about you. We're going to take our country back and make it great again."
The billionaire businessman implored the crowd to get out and vote on Saturday, which is when Kentucky hosts its GOP Caucus.
"On Saturday ... you have to get out and vote," Trump said. "You have to get out and vote. Promise? Everyone promise?"
The trek to Louisville was Trump's second stop of the day. Earlier, he made an appearance in Columbus, Ohio. After stopping in Louisville, Trump was heading to Palm Beach, Florida for his final appearance for Super Tuesday
After his speech, Trump exited the stage shaking hands as he walked out.
Mike Biagi, executive director of the Republican Party of Kentucky, told WKYT's Garrett Wymer that Saturday's upcoming caucus allows Kentucky to be a relevant player in the primary process. He says the commonwealth has already shown that importance with visits from Ben Carson and Donald Trump, and a campaign stop for Marco Rubio scheduled for Friday.
The following candidates have filed for the March 5, 2016 Caucus:
Donald Trump
Ted Cruz
Ben Carson
Marco Rubio
John Kasich
*Jeb Bush
* Rand Paul
* Chris Christie
* Carly Fiorina
* Rick Santorum
* Mike Huckabee
*candidates that have suspended their campaigns (their names will still appear on the caucus printout).