State confirms low-level, radioactive material was dumped at Estill Co. landfill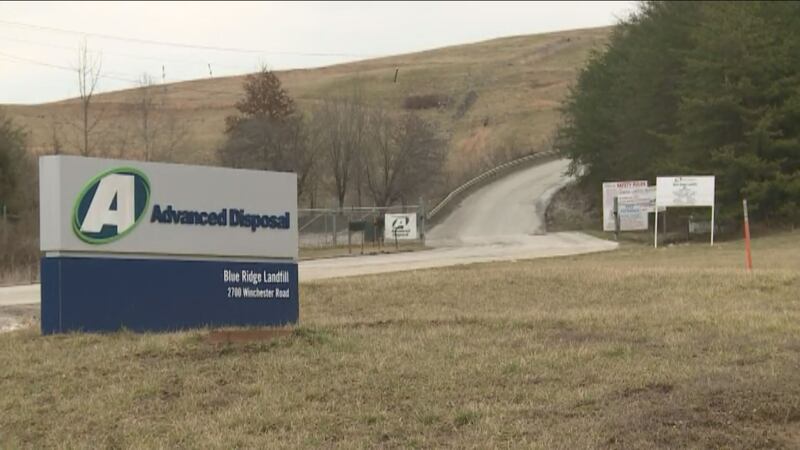 Published: Feb. 25, 2016 at 3:22 PM EST
A state official on Thursday confirmed that radioactive material from drilling was illegally dumped last year at the Blue Ridge Landfill.
Kentucky Division of Waste Management Director Anthony Hatton told WKYT that the waste was dumped some time last year between July and November. The state opened its investigation after receiving a tip in January.
Hatton said the Division of Waste Management discovered radioactive material sealed in 47 dumpster boxes that were each 25 cubic yards-that's roughly the size of a large dumpster. The boxes came from a company in West Virginia. Advanced TENORM Services L.L.C, which is based in West Liberty, made arrangements for the disposal, he said.
Kentucky has an exclusive contract with Illinois to manage radioactive waste from the state. Illinois is the only state that is allowed to dump radioactive waste in Kentucky.
Additionally, the radioactive level of the material that was buried was at least 340 times more than the amount that is allowed to be buried at a solid waste landfill. Hatton says the landfill does have a liner and the material has been buried.
The waste was more refined than average, making it more radioactive.
It is not clear whether it is harmful to the public, but Hatton said "I personally don't have any information right now that would lead to believe there was an imminent threat or danger from this material being placed in the landfill."
"At the time in which the material was being deposited I can't answer that question," he said. "As best I understand it they have been operating since November and the landfill receives waste daily, adds it to the working face, adds daily cover. So, this material is at some depth now below the surface."
Operators from the Blue Ridge landfill, where the waste was found, were meeting with state officials at the Division of Waste Management Thursday afternoon.
Estill County Judge-Executive Wallace Taylor says the landfill owner told him that he accepted waste from West Virginia, but says he didn't know he wasn't allowed to. He says the owner told him none of their paperwork indicated that the material was radioactive.
The Blue Ridge landfill, at 2700 Winchester Road in Irvine, is located near the Estill County High School and Middle School.
Taylor said they will continue investigating. He said they do not plan to close the landfill at this time.
The county's emergency management director said the state's assured him that the material is not a public health threat.
"Any time the term 'radiological' is thrown around it's scary to people. Our very first most important duty is to ensure the safety of our community," Estill County Management Director Ronnie Riddell said.