Three iconic buildings in downtown Versailles undergoing renovations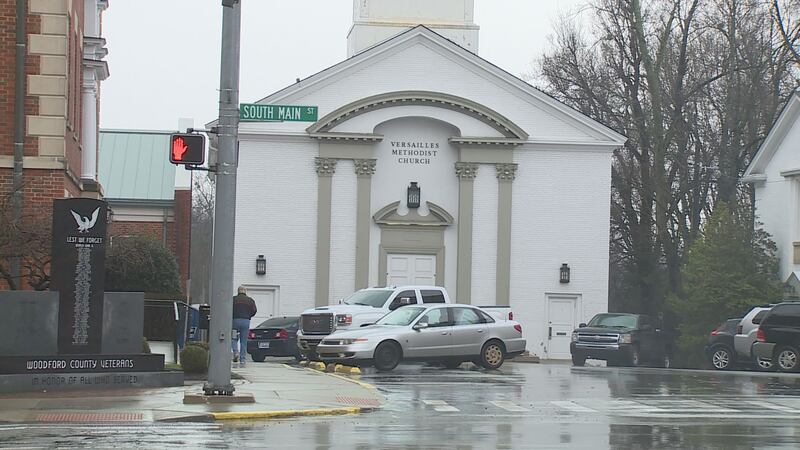 Published: Apr. 11, 2018 at 9:21 AM EDT
Three buildings, formerly home to the Versailles United Methodist Church, are in the process of getting a makeover in Woodford County. Alex Riddle and his partner Jordan Kite of Kite Riddle Holdings purchased the property which features the iconic whitewashed buildings.
The sanctuary will be transformed into a wedding and event space they're calling The Galerie. The former fellowship hall will become home to Rolling Oven and Taproom, where they'll offer wood-fired pizza and craft beer. The third building will be an art studio with leasable office space.
"We love historic buildings," explained Riddle. "I don't know if it's so much about making them new again as it is about keeping them intact and keeping them functioning and useful."
When it comes to finding a balance between preserving the space while also making it modern, Riddle learned long ago to delegate.
"My wife does all the design," said Riddle. "I just have to figure out how to pay for it"
The two have experience, they recently renovated the old Amsden bank building. It now houses the Amsden Coffee Club, Gathered Mercantile, Shop Twenty Something boutique, The Yoga Room, and the Amsden Bourbon Bar.
Jessica Pantatello, who is engaged to co-owner Jordan Kite, will serve as event manager of the updated space.
"I'm incredibly invested," explained Pantatello. "Because we're going to be getting married here too."
Alex says he and his team have put forth an aggressive timeline to get the spaces up and running. They hope to have the Galerie finished by June. The Taproom and art gallery are on schedule to be complete by Derby.
"I've heard there's a word called patience you're supposed to us in business, I'm not very good at that," said Riddle. "We want them to be open, we want to be in here because downtown needs more places to go."