UPDATE: Cleanup underway after train crash in Scott Co.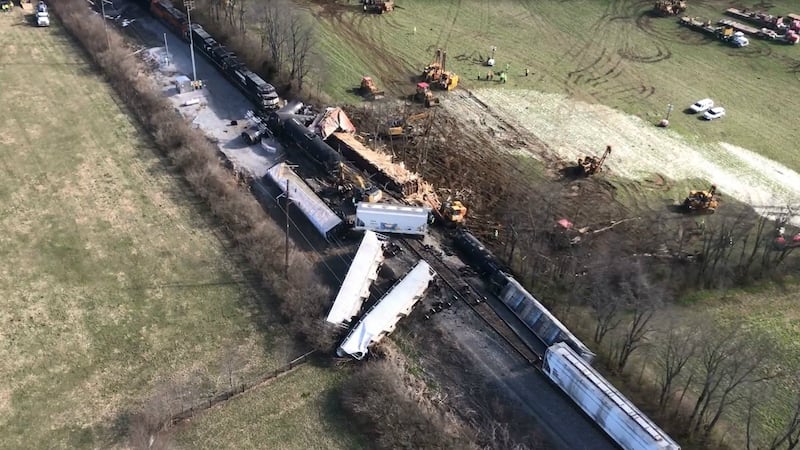 Published: Mar. 18, 2018 at 11:57 PM EDT
Officials are starting to clean up a big mess after two Norfolk Southern trains crashed head-on near Lisle Road in Scott County.
It happened around 11:15 p.m. Sunday.
Train crews told a witness that a northbound train ran through a switch where the tracks split, hitting a stopped southbound train head-on. Eight locomotives and more than 200 train cars were involved.
Thirteen rail cars and the locomotives from both trains derailed.
Four people on board the trains were hurt, and railroad officials say all but one of them have been released from the hospital. One railroad workers is still being evaluated.
Crews on Lisle Road are working to clean up diesel fuel and non-hazardous nut oil that spilled in the accident. The train caught fire after the wreck, but the flames have been put out.
Officials say they are working to clean up the spilled oil, and their next steps will be to move the derailed cars and repair the tracks.
Billy Covington lives next to the crash scene. He says he and his wife were watching basketball on TV when they heard an explosion. He called 911 and helped injured crew members from the train.
"One of them had a neck injury but he walked over here. And he laid down on the driveway, so I got him up, took him inside," said Covington.
Both trains had hazardous materials on board, so Interstate 75 was shut down as a precaution. Officials say those materials did not leak, and the interstate reopened just after 1 a.m.
Lisle Road was shut down until around 7:30 Monday morning.
Buses were also sent to evacuate people living in the Spindle Top and Ponderosa trailer parks on Lisle Road to Lemons Mill Elementary. The mandatory evacuation has been lifted, and the area opened back up at 2:20 a.m. for residents.
Lexington Fire Department spokeswoman Lt. Jessica Bowman says residents near the scene were evacuated "out an abundance of caution."
The Federal Railroad Administration and Norfolk Southern are investigating.
-------
Note: A previous version of this article stated that the National Transportation Safety Board was investigating this crash. WKYT has learned that the agency is not investigating.