UK students take to the sky to survey Ky. elk population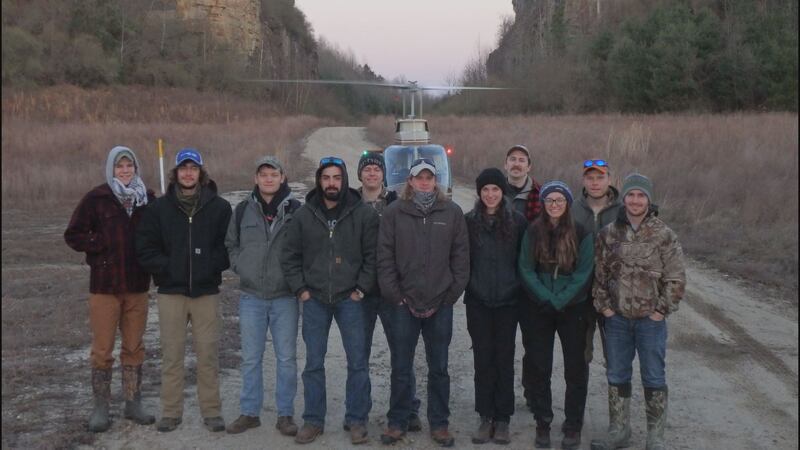 Published: Mar. 9, 2017 at 11:18 PM EST
The University of Kentucky's Department of Forestry program has kept an eye on elk in southeastern Kentucky.
So why stay in the classroom?
A group from one of Dr. John Cox's classes spent the day in the sky over
, surveying elk and whitetail deer in the region.
"Ten thousand acres is a pretty good chunk of land to survey," Dr. Cox said, "so we spent about three hours looking over the entire forest."
From 1997 to 2002, elk were reintroduced to 16 counties,
: McCreary, Whitley, Knox, Bell, Clay, Leslie, Harlan, Breathitt, Perry, Knott, Letcher, Pike, Floyd, Magoffin, Johnson and Martin.
"There's quite a few of them now in eastern Kentucky," Dr. Cox said. "We think maybe 10,000 elk or more that are there. Which is about twice the number that are in Yellowstone National Park."
The trip gave Dr. Cox's students some good experience out in the field, but that is not all, because surveying plays an important role when it comes to the state's elk population.
"They are a six- or 700-pound animal, and they do consume five to six times more food than a whitetail deer, so they can have substantial impact," he said.
Dr. Cox said the elk are doing well, but
. He says they also want to see how the elk interact with the forest and other surrounding land, including reclaimed surface mines.
Dr. Cox said they only saw five elk on their trip Thursday. He said he thinks that is partially because warm weather has changed some of the elk's daily grazing patterns, causing them to graze on budding greenery at reclamation sites later into the morning.