WKYT Exclusive | Former UK coach Guy Morriss battling Alzheimer's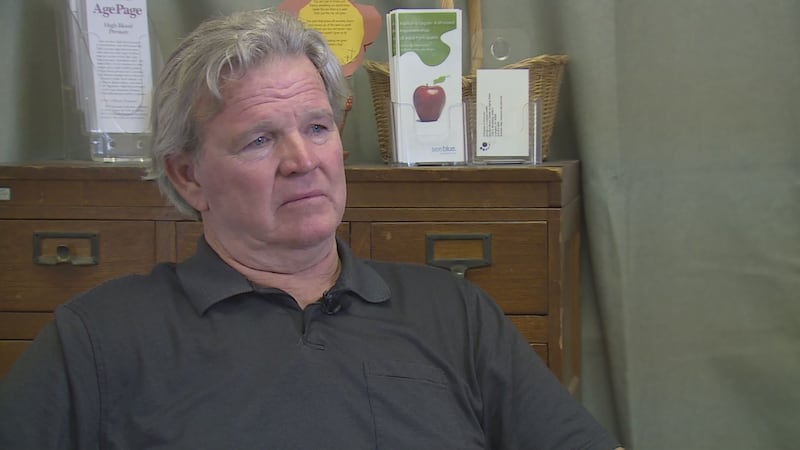 Published: May. 22, 2017 at 6:07 PM EDT
A man once named to the NFL pro bowl, who played in a Super Bowl, is now is tackling the greatest challenge of his life.
Since his days as an assistant and then the head football coach at the University of Kentucky, Guy Morriss was always known as a friendly and approachable guy. Lately, friends have noticed a change in the 66-year-old.
"People say, 'what's wrong with Coach Morriss? Why is he doing this? He's kind of sluggish,'" Morris described.
Now, the former coach, affectionately known as "Guy Mo," admits he hasn't been his old self, and there's a reason.
"State of the art testing, looking at PET scan imaging of the brain, was able to detect plaques within the brain," said Dr. Greg Jicha, MD, Ph.D. "That is a hallmark feature of Alzheimer's disease."
For the past nine months, Guy and his wife Jackie have been dealing with that sobering diagnosis. Dr. Jicha says the condition is very likely brought on by more than 20 years as an offensive lineman, 15 in the NFL.
"We know that many NFL players and folks who have engaged in careers where repetitive head injury, even mild head injury, can leave them predisposed to a variety of conditions," Dr. Jicha explained.
The NFL has begun to accept the results of years of research. But for Morris and other players dealing with this kind of diagnosis is not as easy task. He first sought out medical advice four years ago at the Center for Brain Health in Dallas, where they told him he was dealing with a form of dementia.
Morriss said, "I wouldn't accept it. This can't be happening to me."
Eventually, Morriss and his family moved back to Kentucky.
He worked for a time with high school teams, but his health problems grew to the point where he could barely function.
"At first I couldn't write my name. I could not write my name. I didn't know my ABCs. I couldn't do that little rhyme."
Eventually, he couldn't dress himself or tie his own shoes.
"You wake up one day... everything connects. Next time, you get out of bed.... It's just a day at a time."
Last fall, Morris visited the Sanders-Brown Center on Aging, where testing revealed Guy was in the early stages of Alzheimer's disease.
With treatment, including a drug called Aricept, and a lot of hard work, Guy is beginning to become Guy again. In a way, his football background has helped Morriss tackle therapy designed to improve the disconnect between his brain and his body.
"Guy takes it home with him. So if he doesn't perform up to his standards on one particular task, he will go home and practice as though he was in a game," Dr. Jicha said of his patient. "He can see that there's difficulty, and he works at it. He practices. And that's incredibly good for his brain."
"You stay with it. You learn the pattern again. That's a win for me," Morris said. "Dressing myself is a win for me. Tying my shoes is a win for me."
Researchers are hoping to have a cure for Alzheimer's within a decade, but for patients right now, including the Morrisses who have between them five daughters and four grandchildren, the future is bleak.
"We've all kind of accepted it. Everybody knows what we're dealing with," Morris said. "The prognosis of beating it is not gonna be there for me."'
Guy says despite his bleak prognosis from a disease that's been linked to the sport he loves, he'd do it all over again. His doctor says it's not right to villainize the sport.
"I'd like to remind everybody out there that there are more NFL players that do not have memory problems or develop Alzheimer's, than those that do," Dr. Jicha said.
Morris struggles to recall some things. He does remember the '02 season-opening upset of then 22nd ranked Louisville when the UK defense never stopped pounding U of L quarterback Dave Ragone.
"I don't remember the quarterback's name, but he took a beating....(chuckles)"
One thing he feels strongly about is his love for the fans in the state his family now calls home.
"We fell in love with the people of Kentucky; we fell in love with the city of Lexington. (It is) Such a good feeling for us to be adopted by the people here in Kentucky."