Killeya-Jones flying under the radar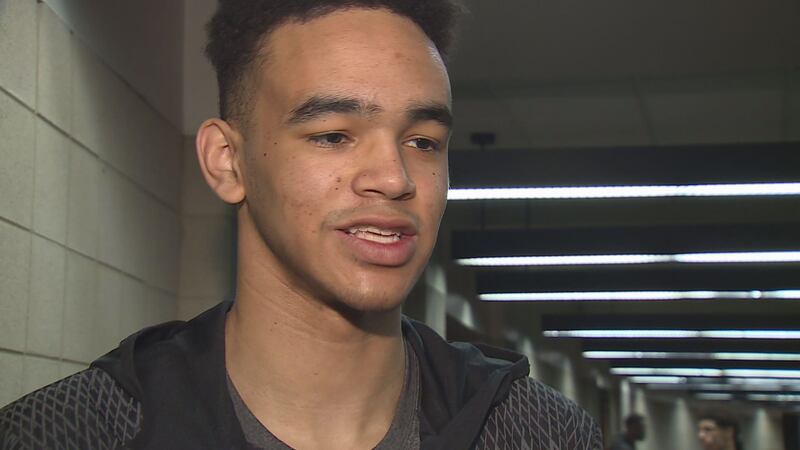 Published: Apr. 7, 2016 at 3:09 PM EDT
If there's you're looking for an underrated player in Kentucky's 2016 recruiting class, it's Sacha Killeya-Jones. Jones is a top-30 player in who would be considered in the top 10 in many other classes.
"He's a guy that's not as heralded as some of these guy," Evan Daniels of Scout.com says. "I think part of it is his body, which hasn't always been physically ready to battle with some of these players. I do think it's starting to fill out and it's going to continue to fill out."
Daniels thinks Killeya-Jones has many facets to his game.
"I like his skill set and his mobility. He can drop in a hook shot. He can make a face up jump shot. I think the next step is adding to his strength and continuing to polish his game."
Playing harder is something the 6-11 Killeya-Jones forward is prepared for.
"Cal has just been telling us to come in and work for everythingm," Killeya-Jones said. "So it's all the same thing. You'll come in and fight for every inch. Nothing is given to anybody and I really like that about it."
Playing time will be determined by which players head to the NBA, but Killeya-Jones says the more the merrier.
"In practice it's going to be great. If everybody came back, then we'd have a stacked team. I'm just looking forward to playing against them and playing with them."
The Chapel Hill, North Carolina native describes himself as laid back off the court, but a competitor between the lines.
"Someone who is on the court, who's going to play really hard," he said. "Enjoy the game, have fun with it and at the same time, compete every minute I'm on the court."
"Off the court, I like to have fun and everything. I'm kind of a laid back guy. I just want to have a lot of fun up there."