WKYT Investigates UPDATE | ARC responds to ex-employees' suit, seeks damages for noncompete violations
The company's noncompetes have become increasingly restrictive as the company grows, a WKYT investigation found earlier this month.
Updated: Apr. 21, 2023 at 6:00 PM EDT
LEXINGTON, Ky. (WKYT) - In response to a lawsuit against them, officials with one of the state's largest substance use disorder recovery companies are now seeking damages from two former employees over noncompete violations.
Attorneys representing Addiction Recovery Care filed the response and counter-claim last week in U.S. District Court for the Eastern District of Kentucky, court documents show.
It stems from a class-action lawsuit filed by Leanna Murphy and Samantha Carroll that claims employees working as community liaisons are not properly compensated for overtime hours worked.
ARC's response to that complaint "denies that these claims have any merit and that plaintiffs are entitled to any relief," and includes a counter-claim against the two ex-employees for breach of contract and tortious interference with contractual and business relationships.
Murphy and Carroll filed their complaint in February after receiving cease-and-desist letters from an ARC attorney, which threatened legal action against them for violating the "Non-Competition, Non-Solicitation and Confidentiality Agreement" each signed when they began working for ARC.
[WKYT Investigates | Ex-ARC employees decry company's use, enforcement of noncompetes]
The two have since refused to quit their jobs at another substance use disorder recovery company.
In an interview with WKYT Investigates, Murphy and Carroll criticized ARC for its use of noncompete restrictions, and asked whether it has gone too far with its contract terms and enforcement.
In effect, ARC's noncompetes have become increasingly restrictive as the company continues to expand statewide, leaving ex-employees, they believe, with few other options in the field if they decide to leave ARC.
"They have monopolized the entire state of Kentucky," Leanna Murphy said at the time.
The noncompete agreement prohibits employees - for up to two years after leaving ARC - from working at a competitor within a 60-air mile radius of any ARC treatment center "in existence at the time the employee-employer relationship ends" and any place that the worker "knows or has reason to know" that ARC plans to expand to within 12 months after the employee leaves.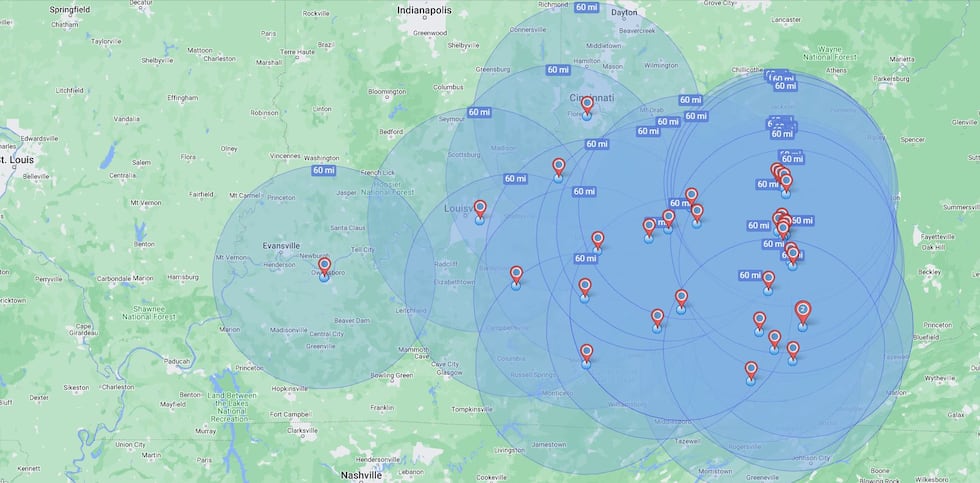 In the counter-claim, attorneys representing ARC state that they are seeking "actual and compensatory damages...incidental damages, consequential damages, costs, attorney's fees and any damages this Court deems appropriate" for breach of contract, as well as "special damages [which] include, but are not limited to, lost profits, harm to ARC's reputation and goodwill and legal fees" because the pair "have and continue to knowingly and intentionally interfere with ARC's existing and potential contractual and business relationships."
ARC is also seeking punitive damages, calling Murphy and Carroll's actions "in interfering with ARC's contractual and business relationships...intentional and malicious."
An estimated 18% of U.S. workers are covered by noncompetes, a 2021 study found. (Disclosure: Many WKYT employees have noncompete clauses in their contracts.)
Noncompetes are designed to keep a company's employees from working for a competitor in a certain area for a certain amount of time.
Many businesses defend the practice, but it is facing increased scrutiny.
The Federal Trade Commission, which investigates antitrust violations, has proposed a rule to ban them. Additionally, so far this year the FTC has ordered four companies and two individuals to drop their noncompetes, ruling that their restrictions were "unfair methods of competition" in violation of federal law.
"We feel like, when did recovery as a whole become a competition? When did it say, 'You have to choose between helping people, or if you're not helping people under this non-compete or for this company, you can't help people'?" Carroll previously told WKYT's Garrett Wymer. "How is that fair to the people that we helped, the people that we could help in the future and this field as a whole?"
Murphy and Carroll will have a chance to respond in court to ARC's counter-claim.
The filings are in federal court because the initial suit was a question of the Fair Labor Standards Act, which is a federal law.
One of the attorneys representing ARC in the case is Robert M. Duncan Jr., a former federal prosecutor appointed by President Trump, who now works in the private sector.
Copyright 2023 WKYT. All rights reserved.