Free meal served Friday for Estill Co. storm victims, volunteers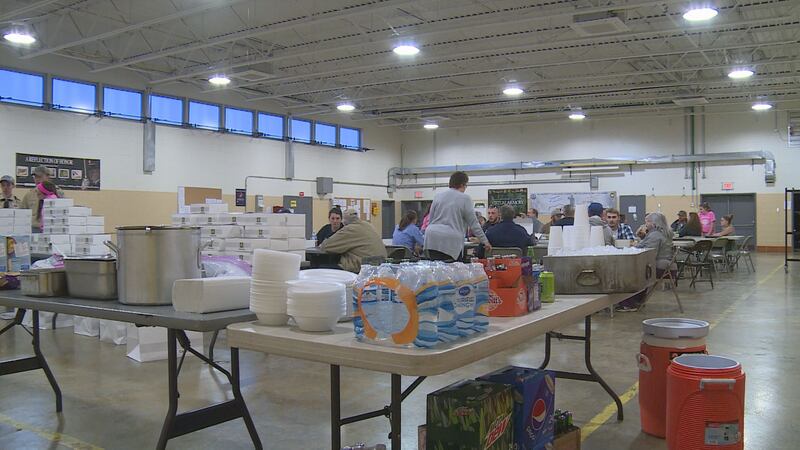 Published: Mar. 3, 2017 at 10:56 PM EST
It has been
.
On Wednesday, 90-100 mph straight-line winds
.
The
, and
to help people forced out of their homes.
After a tough couple of days, volunteers and victims alike could use a nice meal. On Friday evening, a full spread of food waited for them at the National Guard Armory in Ravenna, which has served as a headquarters of sorts for volunteer efforts.
Father Jim Sichko of Richmond had 400 meals from Panera Bread delivered.
"In times like this, yes, people need shelter, yes, people need materials, but also people need nourishment," Father Jim told WKYT's Garrett Wymer. Sichko said after the storms came through Estill County, he wanted to help out the best way he knew how. "In memory of my mom who recently died, who loved to cook for others, I just thought it was appropriate and fitting."
Father Jim said for more than 40 years his mother would make meals every Wednesday for the garbage men who came to pick up her trash. His mother died in January unexpectedly.
Troops of Boy Scouts and Girl Scouts were too young to go out and help clean up debris, but, eager to help, they found a way to get involved anyway. They helped set up tables and serve food at the armory.
"It's sad," said Aidan Baber of Boy Scout Troop 144. "All the houses and everything - most of the houses are destroyed, their roofs have come off."
There is still a long road ahead for Estill County. Irvine Mayor W.J. Noland said Friday that it has been a difficult couple of days, but it is good to see the community coming together.
Folks of all ages are helping however they can.
"We can help other people in need because their homes got tore up," said Kylie of Girl Scout Troop 7182. "So we can help them."
Estill Co. Emergency Management leaders say the county's preliminary damage assessment shows that 18 homes were destroyed. They say 175 homes were damaged, 25 of which have major damage. At one point, 1,800 homes were without power. By Friday night, all electricity had been restored to homes that can be serviced at this time, county leaders said.
The donation center is being moved from the Christian Worship Center in Irvine to Helping Hands Outreach in Ravenna.
Cleanup teams will rtesume pickup duties on Monday to help homeowners remove debris. Anyone who wants to volunteer with a cleanup crew can register at the armory between 9:30 a.m. and 2 p.m. on Monday.
An emergency shelter at Estill Springs Elementary School will be closing at 4 p.m. on Sunday.
Governor Matt Bevin on Friday
, allowing the state to send a formal disaster declaration request to the federal government. State leaders also activated bans on price gouging for necessary goods and services.